Did you know that sin doesn't just happen? There is a process to sin. The 7 Steps to Sin are the enemy's strategy to lead you from temptation into sin. With the understanding from this teaching, you will be able to discern the enemy at his game and stop him in his tracks. This is an essential teaching for overcoming temptation and sin and walking out into freedom.
Have you ever wondered how you can stop habitual sins and catch yourself BEFORE you mess up? Maybe you have lost your temper or lied to someone out of fear before you even realized what was happening. All of these actions begin in your own head as a thought. It was given to your from the enemy. How do we know this? James 1:14-15 clearly lays down the process from temptation to sin.
14 But every man is tempted, when he is drawn away of his own lust, and enticed. 15 Then when lust hath conceived, it bringeth forth sin: and sin, when it is finished, bringeth forth death. James 1:14-15 KJV
Today, we present a sound bite from the 7 Stages to Sin teaching by Elder Scott Iwahashi.
Here are a few key points that this teaching addresses:
– Where do your thoughts come from?
– How do we know if a thought we have isn't our own?
– Is there a difference between temptation and sin?
– Are we bad because we have a bad thought?
– How can we escape from the snare of the enemy?
– What do we do when we recognize sin in our lives?
– How can temptation be good for us?
Discerning and identifying your thoughts are essential to be an overcomer
There are seven stages of sin and it starts with temptation. Temptation is not a sin. Even Jesus was tempted by Satan in the wilderness, but the Bible says he was without sin. We can be tempted, but if we can discern those thoughts before they become actions, we can cast them down and not follow through into the act of sinning.
God wants to help you understand how the enemy operates so that He can help you develop a strategy to defeat him. We cannot avoid temptation because we live in a fallen world, but our God is far greater than any of the enemy's wiles.
God can turn even what the enemy intended for evil into good to fulfill His purposes in our lives, refine us, and mature us in Him. He does not want us to resist the process of sanctification; He wants to walk with us and help us through it.
My brethren, count it all joy when ye fall into divers temptations; 3 Knowing [this], that the trying of your faith worketh patience. 4 But let patience have [her] perfect work, that ye may be perfect and entire, wanting nothing. James 1:2-4 KJV
The insights from this teaching will equip you to turn temptation into an opportunity to revenge the enemy and grow in spiritual maturity.
Casting down imaginations, and every high thing that exalteth itself against the knowledge of God, and bringing into captivity every thought to the obedience of Christ; 6 And having in a readiness to revenge all disobedience, when your obedience is fulfilled. 2 Corinthians 10:5-6 KJV
Will you allow God to join you in your journey? You do not have to be a victim of the enemy's devices anymore. You can be an overcomer with God's help!
Today is the day to strengthen your overcomer journey!
This is a foundational teaching from the For My Life® Retreat and the For My Life Online course. In addition to the complete 7 Steps to Sin teaching, we present 32 more teachings that can strengthen your faith, and equip you as an overcomer.
The For My life Retreat is a life-changing, week-long, intensive retreat where you can find healing in God for your spirit, soul, and body. We have also developed the For My Life Online course, where you can participate with us from the comfort of your own home.
We invite you to join us on this exciting journey of healing and restoration that we call the overcomer's journey. We are dedicated to fulfilling the vision and mission that God charged Dr. Henry W. Wright and Pastor Donna Wright with when they started this ministry, to establish generations of overcomers.
Find out more about For My Life and Register HERE!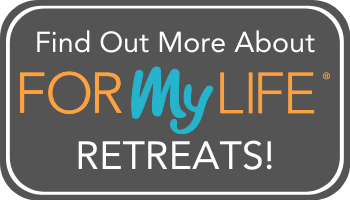 Be blessed and enjoy the journey!
The Be in Health Team
View more sound bites from the For My Life mini series:
Would you like to read more articles on this topic?
Pin this article now to save it for later and to share it with others!