A Gift to the Body of Christ
City of Refuge is an annual celebratory gift from us to you where you can attend the full For My Life Retreat at a minimal cost. Dr. Henry W. Wright desired to restore all of God's people to health and wholeness in God. He felt led to establish the City of Refuge as a way to meet the needs of more people. Though he has gone to be with the Lord, we want to continue his legacy and honor his heart of love and compassion.
Over the years, For My Life has developed into a world-renowned resource for healing and recovery for tens of thousands of people. Its fundamental teachings lead the attendee to a better understanding of God's love, who He is, and their identity in Him. With this foundation, the For My Life Retreat helps people understand how the enemy operates in their lives through thoughts, feelings, and emotions to produce disease and cause separation in relationship with God, themselves, and others. Then we teach how to recognize and overcome the enemy's work in their lives so that they can walk in the wholeness of life that God intended for them.
The For My Life Retreat has produced time tested results with healing and recovery from all types of diseases and disorders including, but not limited to: allergies, autoimmune diseases, cancers, heart diseases, and muscular-skeletal issues. Not only have we seen incredible results with physical problems but also with emotional and psychological issues such as depression, addictions, bipolar, multiple personality disorder, anxiety disorders, and many more.
We invite you to join us this year for the City of Refuge For My Life Retreat!
Retreat Pricing and Information
We are offering City of Refuge twice this year, registration is available on a first-come, first-served basis for each program, and seating is limited to 150 per class. The cost is a $49 per person administration fee that is non-refundable. If you are planning to attend the December Walk Out Workshop (WOW) following attending City of Refuge, you must register for the November 28 class.
Stay for the December WOW!
After For My Life, the next step is the Walk Out Workshop. The term walk out refers to the journey of walking out of the old life of disease and hopelessness and into a new life of health and wholeness. During this one week workshop our team and attendees roll up their sleeves and begin to get really interactive with the principles from For My Life.
We will talk about things like: how to not go into guilt when we fall short, becoming established in our identity, overcoming temptation, how to forgive when you've been hurt, and learning to walk in the Father's Love. Break out groups, lots of Q & A, and continued healing of your spirit, soul, and body are all part of this amazing week.
This year, after the November 27th City of Refuge week, we are also offering a special deal for the Walk Out Workshop:
The December 4th – 8th WOW is discounted (only $99/person – contingent upon staying in Be in Health Accommodations; otherwise it is $699/person). If you stay in our accommodations for the November 27 City of Refuge week and the following WOW week, you will also get a free night of lodging ($99 savings). You must register early in order to reserve accommodations with us.
Katie's Testimony After Attending the City of Refuge
Many who attend the City of Refuge program have come as a last resort. They have tried many other scientific or alternative sources providing minimal temporary relief. That is where Katie Treesh found herself before she came to City of Refuge. She was afflicted with hypothyroidism, chronic pain, Irritable Bowel Syndrome (IBS), Allergies, and Inflammation and desperately looking for real solutions.
"For twelve years I went through all this yuck…" –Katie Treesh
Katie: "For twelve years I went through all this yuck. I went to the medical doctors; I don't even know how many doctors. When the medical doctors did not have any answers, I went to the alternative medicine doctors, and they could not give me anything except supplements.

Yes, the supplements kind of helped. But then I would always be dependent on the supplements. It was so expensive; it took so much of our money. We were spending thousands of dollars, and the devil was just stealing from us."
How they heard about Be in Health®
In 2016, Katie and her husband, Aaron, heard about Be in Health through a lady in their church. They saw there was going to be a free Be in Health conference near them in Knoxville, TN in October 2016.
They knew they had to go.
It was there that they found out about the City of Refuge.  Katie knew this was her opportunity, and she immediately made plans to attend the next month.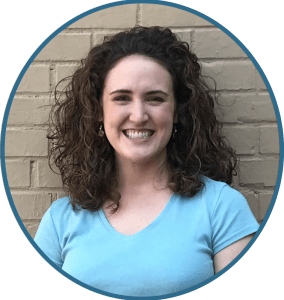 A huge breakthrough for Katie
Katie: "The number one thing I left the City of Refuge Retreat with was that I knew that my Father loved me, I just knew, it was not a doubt in mind anymore.

The first thing that happened when I went home was my relationships with people started to be restored. At City of Refuge I had learned that the issues I had were because of a breach with God, myself, or others.

I started to have time with the Lord, getting out of self-pity, and that is when my heart really started to be healed. I then made it intentional to go to those people where there was a breach and make things right."
An unanswered desire
Katie and Aaron have a 4-year-old son named Caleb, but they really desired to have more children. However, Katie's cycle had not been regular since she had been 16, and the only way she had a cycle at all for the past twelve years was through medical intervention.
At the City of Refuge Katie found out that one of the possible spiritual roots behind not having a regular cycle is a breach in relationship between herself and another woman. She knew it was true. Her relationship with her mom had been struggling for years. That relationship was the first one she restored.
Katie: "It really started while I was there at City of Refuge when I forgave my mom. Then two weeks later, in December, my cycle started. I had my cycle twice in December, and I thought; what is going on!? But my doctor said that I hadn't had one in so long that it was probably just my body cleansing.

I really felt as though God was washing me of all uncleanness and shame. I had restored hope again, that I could be normal; that I could have children."
A new normal
Having a regular cycle became the new normal for Katie. For six months in a row, she had her cycle, but in June of 2017, it just stopped. She had hopes that it meant she was pregnant, but the test she took came back negative.
A battle for victory
Katie: "All this hope deferred and self-pity started coming over me like a flood. The accusation toward God wanted to come out. The devil was taking advantage of this opportunity to attack me.

When I went to Aaron, he used his military background to help me. He said that when you are under attack, you contact headquarters and alert them. At the same time you attack back and also call in help, you have to do all three.

That has helped me so much because all I had been doing was calling headquarters, I wasn't attacking back and I wasn't calling in help. So being vulnerable with other people during hard times has been a propeller. It has propelled me ahead in the journey.

When I reached out to one friend, she told me that it might take up to 40-days for my body to respond positively to a pregnancy test. After that I prayed and in two hours I was back to peace instead of waffling in fear for a week."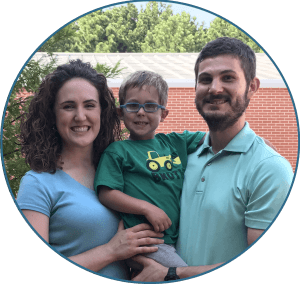 A praise report!
On July 1st, 2017 Katie took another pregnancy test, and this time it was positive! Aaron got his prayer journal out and read a prayer request that he had written down months before, it read, "pregnant by July 1st."
At the time these pictures were taken, Katie was eight weeks pregnant with their second child. They are now expecting a third child! In addition, they no longer need all the supplements and meds, what they saved from those expenses helped them to buy a home for their growing family! Praise God!!!
God is so good! and what He's done for Katie and tens of thousands of others, He can do for you too! He wants to join you on your journey to recovery as you learn the truth from His Word and apply it to your life. Join us for the City of Refuge and find real solutions for your life.