And why is water baptism an important act of your faith?
Water baptism is a sacrament of the Christian faith, meaning it is an action that God has set apart that has spiritual significance in our lives. However, it is widely misunderstood and, in many cases, has become something that we just do without fully understanding its meaning. Water Baptism isn't something to take lightly; the Lord Jesus Christ Himself thought it was important enough to be water baptized before He began the work of His ministry.
Water baptism is an act of obedience to God's commandment; however, it was never meant to be something we just do because we think we have to. It is an outward expression of yielding in obedience to God and is a fundamental element of our own spiritual journey. That's why it's so important to truly understand the spiritual significance of what water baptism represents in our lives.
What does water baptism represent?
The word 'baptism' comes from the Greek word 'baptizo' which means total immersion. It symbolizes the washing away and dying to our old life of sin so that we may be raised up into new life in Christ Jesus. Jesus Christ died on the cross, was buried, and resurrected the third day as the perfect sacrifice for our sins. Through faith in Him, we have the opportunity to appropriate his death, burial, and resurrection symbolically by our participation in water baptism.
The act of being baptized involves a believer being lowered down under the water – which represents dying to sin, being fully immersed in the water -which represents burial, and then being raised up again out of the water – which represents our resurrection into new life with the power to have victory over sin in the name of Jesus.
Know ye not, that so many of us as were baptized into Jesus Christ were baptized into his death? 4 Therefore we are buried with him by baptism into death: that like as Christ was raised up from the dead by the glory of the Father, even so we also should walk in newness of life. Romans 6:3-4 KJV
Baptism is an outward symbol of our faith
Water baptism also involves making a verbal declaration of our faith and setting ourselves apart to serve and follow God as our Heavenly Father. It's a covenant that we make with God that shows our love for Him.
For with the heart, man believeth unto righteousness; and with the mouth, confession is made unto salvation. Romans 10:10 KJV
Water baptism is a physical representation of switching from being servants of sin to serving God in righteousness. This does not mean that we won't sin again, but it sets the standard that we are choosing to shift our allegiance to from Satan and his kingdom to the Kingdom of God. We may still struggle with iniquity and fall into sin from time to time, but through the blood of Jesus Christ, we can repent and remain clean in His eyes.
Know ye not, that to whom ye yield yourselves servants to obey, his servants ye are to whom ye obey; whether of sin unto death, or of obedience unto righteousness? 17 But God be thanked, that ye were the servants of sin, but ye have obeyed from the heart that form of doctrine which was delivered you. 18 Being then made free from sin, ye became the servants of righteousness. Romans 6:16-18 KJV
Is there a prerequisite for being baptized?
It is important to note that the prerequisite of being baptized is to be born again. Therefore it is anyone who gets baptized should be at the age of understanding to acknowledge their personal declaration of faith. We show our faith in God the Father by doing the work of water baptism.
Even so faith, if it hath not works, is dead, being alone. 18 Yea, a man may say, Thou hast faith, and I have works: shew me thy faith without thy works, and I will shew thee my faith by my works. James 2:17-18 KJV
We do not say that you aren't saved if you haven't been baptized, but we see from the Scripture that baptism is an essential step of obedience for all believers to take in their relationship with God. We also know from the Word that water baptism is an important element of a believer's overcomer journey. In fact, it may be a missing link as to why many people are unable to overcome even after they've received Jesus Christ as their Lord and Savior. It's not the action itself that has this power but our allowing the Holy Spirit to join us in the action by faith that brings the fruit of cleansing and purification to our hearts. That is why we stress its importance and offer the opportunity to be baptized in water to those who attend the For My Life Retreat in person.
God wants to set you free from the bondage to sin and iniquity.
Are you ready to take the leap to commit to trusting God and following Him so He can lead you to health and wholeness in Him for your spirit, soul, and body? His commandments aren't grievous nor too difficult that we cannot attain to them. God says this in His Word, "Come unto me, all ye that labour and are heavy laden, and I will give you rest" (Matthew 11:28 KJV). He wants to join you on your overcomers' journey by His Holy Spirit, so that you don't have to fight your spiritual battles alone.
Would you like to learn more about water baptism?
In the For My Life Retreat, we present a teaching aptly titled, Water Baptism.  This teaching explores why water baptism is important for our overcomers' journey and its spiritual significance for our lives. The water baptism teaching clears up any misconceptions about what water baptism is and clearly explains why it is necessary for your spiritual journey with God according to Scripture.
This is only a taste of the Water Baptism teaching that we present in the For My Life Retreat. If you are ready to take the next step in your overcomers' journey to learning how to be victorious in Christ, then this retreat is for you!
We invite you to join us on this life-changing journey of healing and restoration that we call the overcomers' journey. We are dedicated to fulfilling the vision and mission to establish generations of overcomes that God charged Dr. Henry W. Wright and Pastor Donna Wright with when they first began the ministry of Be in Health®.
The For My life Retreat is a 5-day, intensive healing retreat where you can find healing in God for your spirit, soul, and body. We have also developed the For My Life Online Course, where you can participate with us from the comfort of your own home.
Be blessed and enjoy your overcomers' journey!
The Be in Health Team
Here is a small clip from the For My Life Online Water Baptism Teaching
Here are a few key points that this teaching addresses:
-What is water baptism?
-Why should every believer be water baptized?
-Is there a prerequisite to being baptized?
-Why did Jesus Christ need to be baptized before He began His ministry?
-In whose name should we be baptized in?
-What's the difference between water baptism and the baptism of the Holy Spirit?
-Why is full immersion necessary for water baptism?
Find the answer to all these questions and more in the complete For My Life, Water Baptism teaching.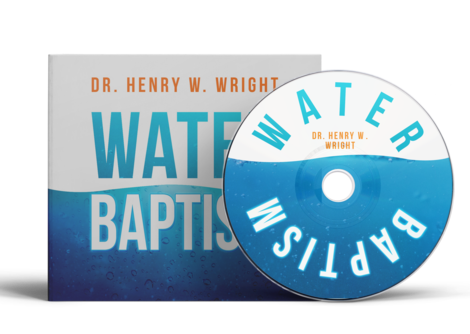 The complete Water Baptism teaching by Dr. Henry W. Wright is also available for sale in our bookstore. CLICK HERE to find out more.
This article is part of the For My Life Sound Bite Series.
Check out these articles to learn more about the other teachings we offer and get more insights into spiritual discernment, the power of God's love, and how He can heal you and help you become an overcomer!
Foundational Insights – This is the core foundational teaching that encompasses the heart and mission of the For My Life Retreat. On this foundation, the whole Retreat is built.
The Father's Love – The number one most important thing for every person's Overcomers' Journey is to be restored to Father God's Love. Without a relationship and trust with the Father, it is very difficult to move forward as an Overcomer.
8 Rs to Freedom – 8 steps to recognize and overcome the enemy's influence in your life.
7 Steps to Sin – Discover the enemy's strategy to lead you to sin and learn how to stop him at his game.
Godly Order – God has established an order of authority in His Kingdom. Discover how Godly Order will help restore you to peace in God and in your life.
Spirit World Realities – Learn how the enemy's kingdom can operate in the earth and the Biblical origins of our spiritual enemy. This understanding will demystify Satan and his kingdom and help you defeat the fear of evil.
Separation – Learn how to recognize the enemy's strategy to divide and destroy relationships and get smarter than him. You can recognize and hate the sin but still love the person just like God does for us.
Pathways of Thought – How can a spiritual kingdom influence our thoughts? Discover the pathway of thought from the spiritual through thoughts, feelings, and emotions to its effect on our physical health.
Disease Profiles – Discover the possible spiritual roots that can lead to specific disease classes.
Blocks to Healing – The Bible tells us that there are certain things that we can agree with that will get in the way of healing. Learn how to recognize and overcome these spiritual blocks to healing. And discover the surprising #1 Block to Healing.
Self Pity – Dr. Henry W. Wright often said that Self Pity is the superglue to hell that binds us to our past and prevents us from moving forward in our future. Learn how to discern this evil spirit and overcome it in your life!
Accusation – Accusation is a tool that the enemy uses to twist the truth and lead us into bondage to sin. Learn how to recognize and overcome the spirit of accusation in your life.
Bitterness – Learn the seven steps of bitterness, including unforgiveness, anger, violence, and murder. With these insights, you will be able to defeat this stronghold and operate in God's forgiveness and peace.
Envy and Jealousy – Discover how Envy and Jealousy
keep your eyes on the object of your desire to prevent you from trusting God and receiving His best for you.
Rejection – Learn how to overcome rejection in your life.
Occultism – Understanding Occultism and why we need to be free from it.
Unloving – Recognize if you are not giving and receiving love to God, yourself, and others. And learn how to walk in love as God intended.
Addictions – Learn what the Bible says about overcoming addictions. God wants to help us be free, and receive our comfort and identity from Him.
Fear – Fear is something that most of us have had to face at some point in our lives. Discover where Fear comes from, how to recognize it, and how to overcome it!
Walk Out – We have the freedom to walk out of things that have once bound us. Learn what is walk out, why it is important, and how to do it.
Would you like to read more articles related to this subject?