The DaRosa Family's Story of How God Healed PANS/ PANDAS Disease in Their Son
PANS disease is characterized by the sudden onset of behavioral and psychiatric changes believed to be triggered by infection, metabolic disturbances, or other inflammatory disturbances. PANDAS is a sub disease of PANS and includes an autoimmune factor. However, the cause of PANS/PANDAS disease is unknown in many cases. The founder of Be in Health®, Dr. Henry W. Wright, often said that if a disease had an unknown cause in medicine, it was highly likely to have a spiritual root cause. We believe God provides real solutions and a better way than just treating PANS and PANDAS disease naturally or medically*; that way comes from His Word.
Looking beyond treating PANDAS naturally or medically
At Be in Health, we look beyond the physical and seek insight from the Word of God to understand the spiritual root cause of diseases. Our groundbreaking insights have contributed to a field of study called PneumaPsychoSomatology® (The study of the spirit, soul, and body connection). This approach has provided real solutions and real healing for thousands of people who learned how to overcome the spiritual root issues in their lives that caused physical breakdown in their body. As a result, these people received healing for their spirit, and mind, as well as their body. God's perfect way is complete healing and wholeness, not just disease management.
To help you understand how this works, we want to share with you the DaRosa family's powerful testimony of how God healed PANS in their son. Although the onset of PANS was believed to be due to a staph infection, God helped his parents tear down generational spiritual root issues that contributed to his immune system's malfunction and resulted in the onset of PANS disease.
The DaRosa family sent us this wonderful testimony of their son's healing from PANS a short time after they first attended the For My Life® Retreat:
First, we want to say thank you so much for sponsoring my husband and I with a scholarship to attend the August 17th For My Life Retreat. We will certainly never be the same, and neither will our son, who was back home in Pensacola and received the overflow of healing into his body.
The sudden onset of PANS/PANDAS symptoms
Since December 2018 my family has been through the darkest trial of our life. Our once perfectly healthy, social, academic son was diagnosed with an abrupt onset of a condition called PANS (pediatric acute onset neuropsychiatric syndrome). It happens when an infection invades the body disturbing the immune system which then, in turn, affects the brain causing sudden motor tics, OCD, cognitive change, speech loss, and academic decline.
We tried many different treatments for PANS
From the month of January through June, he saw 12 doctors, had three ER visits, four hospitalizations, and five rounds of antibiotics that did nothing. He was dismissed by two doctors that had "nothing more to add to his case." It was even recommended that he have a three month psychiatric stay (which we declined because we did not feel at peace with the idea).  Even though PANS happens in 1/200 kids between the ages of 3 to 13, his situation completely baffled the local, Pensacola doctors.
Our son got to the point that he could not walk well, toilet himself, feed or hydrate independently, talk, or bathe.  The most help he received neurologically was in the Miami hospital for very invasive plasmapheresis blood filtering. We saw some positive results, however he was still only about 70% well with improved movement, but he was still losing weight, nonverbal, and aggressive.
On June 13, we moved forward with an amazing second opinion from a local doctor that suggested removing his tonsils which showed a STAPH MRSA infection (not strep as he was being treated for 7 months). He had some positive changes but was still not fully well.
A friend's testimony of healing brought hope
A friend of ours who had been dying and received a miraculous healing last year through the ministry of For My Life, greatly encouraged us to attend and apply for a scholarship. Her and her family came together and even paid for our lodging.
The ministry was powerful and life-changing.  Three days into the conference, Wednesday, August 19, our friends that our son was staying with in Pensacola called us and said he woke up very different that morning and was talking a lot (after being 80% nonverbal for four months). He was also eating and walking better.  That day we had a FaceTime call with our son and heard his voice for the first time in many months. The next day he went to a trampoline park, boating, and waterskiing with friends.
Applying God's real solutions brought real results
As we pressed in that week recognizing, taking responsibility, repenting, resisting, renouncing, rejoicing, restoring others in the truth (8 Rs to Freedom), and cleaning out our generational lines from strongholds of unforgiveness, rejection, and anger, the Lord not only restored our lives and our joy, THE HEALING OVERFLOWED INTO OUR SON'S BODY!
We came back six days later to a son that was walking, talking, and hugging joyfully! He has even gained all of the 15 pounds back that he lost and is attending the private school that he desired!!  Jesus is always faithful to walk through the fire and the storms with us, and He is always touched by the things that concern us.
Bringing hope to others so that they can be recovered from PANS too
We know that God wastes nothing and we look forward to bringing hope to others who are affected by this terrible illness. One of the hospitals even contacted us three days ago; they were fascinated by our son's story and wanted to write a clinical case study about it to help future families.
Praise the Lord!  The Lord restores all things.  Thank you for being the conduit that the Lord flowed through to bring His healing. We truly are forever transformed, and our son has a life story which, we trust, will impact many.
Blessings,
L & S DaRosa
Does God want to heal you too?
According to His Word, God wants to heal all of our diseases. We know that God will meet each of us in the areas that we need Him most, to bring health and wholeness to our lives in our spirit, soul (mind), and body. Healing may happen in different ways. Sometimes it is instantaneous, sometimes it is a walkout journey of renewing the mind, and other times it may simply occur as a healing miracle by the laying on of hands. However it happens, we can be confident that God always has our best interests in mind.
Bless the LORD, O my soul, and forget not all his benefits: 3 Who forgiveth all thine iniquities; who healeth all thy diseases; 4 Who redeemeth thy life from destruction; who crowneth thee with lovingkindness and tender mercies. Psalm 103:2-4 KJV
Blessings,
The Be in Health Team
*Disclaimer: Be in Health is not opposed to receiving medical assistance. We believe the medical community can be an important bridge to manage our symptoms. You may need them for a season to keep you going while you seek God for complete health and wholeness in your spirit, soul, and body.
What is the For My Life Retreat?
For My Life is our world-renowned one-week intensive healing retreat. We teach truth directly from the Word of God on how to walk in health and wholeness in your whole spirit, soul, and body. You will also learn about the spiritual roots of your diseases and the Biblical solutions to be an overcomer. But that's not all; we want to lead you to restoration in relationships with God, yourself, and others.
Thousands of people who have attended the For My Life Retreat report that their lives have been forever changed. They discover scriptural answers to questions about disease, their identity, and the Bible that they never before could find.
If you are seeking God for healing, this may be the opportunity that you've been looking for.
Find real solutions for your health, healing, and wholeness today!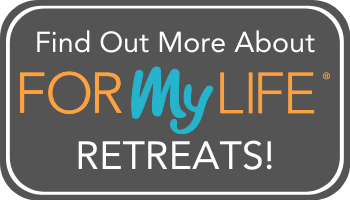 Did this testimony encourage you? You may also enjoy these articles!
Pin this article now to save it for later and share it with others!