The For My Life® Youth Retreat is making a lasting impact on the lives of young people. Read their testimonies here!
The For My Life Retreat is a wonderful opportunity for a fresh start. People come to us from all over the world seeking hope for healing, recovery from trauma, deliverance from mental illnesses, or even a fresh perspective to help them on their journey as an overcomer. Many of those who come to us lament not knowing the Biblical principles that we teach at Be in Health when they were younger, thinking it may have kept them from a lot of hardships. The Be in Health Team took these comments to heart. That is why we developed the For My Life Youth Retreat and the For My Life Kids Retreat.
At the For My Life Youth Retreat we sow wisdom from God's Word into the young peoples' lives. They learn how to be overcomers and are equipped with valuable principles that can potentially redirect the trajectory of their lives. Many of them report finding new hope, discovering a focus in God, and learning discernment so they can know how to identify and overcome any issue or problem that comes their way. For example, through the classes the youth learn how to deal with addictive behavior and other unhealthy patterns of thought that could lead to more serious problems down the road. They also learn how to take responsibility for their own choices and how to go to Father God without guilt or shame.
The amazing fruit of each youth week is evidence of the value in what they are learning. These young people experience spiritual breakthroughs, healings, and deliverance from mental torment, anxiety, depression, and even suicidal ideations.
Our team is experienced and enthusiastic
Our dedicated course directors, teachers, and team leaders pour into these youth's lives with insights from their own journeys, and solid truth from the Word of God, all while representing God's love, grace, and mercy. They endeavor to make the For My Life Youth retreat a memorable and life-changing week and a safe place for the teens to learn and grow together.
We host For My Life Family Weeks each summer, which include the For My Life Adult Retreat, For My Life Kids Retreat, and For My Life Youth Retreat all in one week. However, this summer, we were grateful to even have the opportunity to do one.
God met these wonderful young people in amazing ways. Many of them shared their testimony with us at the end of the week. There is something so precious when a young heart opens up to God and His truth. Today, we wanted to share some of these testimonies with you. We're sure that they will bless you too!
For My Life Youth Testimonies from the 2020 Summer Retreat
"Before I came here (to the For My Life Youth Retreat), I was overwhelmed with stress, fear, and anxiety. This class is what I needed. Every time I go somewhere new, my first instinct is to go silent. But something touched me; it was something I never experienced before – I felt confident. That's why I actually spoke to a person I've never met. I felt a heaviness lift off of me. Thank you!" S
"During the week, I learned to recognize and reject the spirit of accusation. I also realized that I was struggling with many addictions in my life that I didn't notice before. I really think that teaching helped me to overcome them!"
"Ever since I was a child, I struggled with fear and digestive issues. And as a teen, I became unloving toward myself. I hated everything that I was. I was suicidal and almost ended my life. When I came to this conference, I learned so much! I felt God's love like never before! I repented of every unclean spirit, and I had faith that God would heal me… I no longer have digestive issues, I love myself, and I chose to get baptized. I also no longer struggle with fear and anxiety! I believe by faith that God will continue to heal me from my other sicknesses." N
"When my mom first told me we were coming to For My Life, I had no desire to attend it at all. However, I am very grateful that God led me here to learn so much that I didn't know before. I now have a new perspective on various things in my life that will help me walk with Christ and show His love to the rest of the world." K
"I was raised Christian, always went to church, but wasn't really sure of what God wanted to do with me or what my purpose was. As I grew up, I started learning more about God, His plan, and my purpose. I was baptized when I was 13. I came to Be in Health later that year for my first time. It really changed my perspective on God, my faith, and God's plan for me. For My Life opened my eyes to recognize the evil spirits I was participating with and how to cast them out. I was then able to apply all of the things I learned to my life and change my way of living for the better, and in the way that God intended." M
"I have been healed of migraines and allergies. God is healing me of hives, addictions, and he is helping me walk out of accusation. I am able now to be in a closer relationship with my Father (God) because of Be in Health. Thank you so much!" N
"I am a very shy person and have a very strong fear of man. I am always scared to talk to people. This has been helping me a lot, and I am very happy!" A
"I will use these principles to help me face fear, addictions, rejection, and my other sin." X
"I've been to Be in Health twice before, and I was in the kids' program, but I didn't really learn as much as I did when I was in the youth program this year. For the past six or seven months my mom and I have been fighting due to poor choices I've been making. I honestly thought that there was no hope for our relationship… But when I came down here to Georgia, I really dove more in depth of how the spiritual realm can have a huge influence and impact on my life. I recognized how my mom and I have been allowing fear and the enemy to control us. That really opened my eyes to all of the decisions I have been making. Ever since the third day at Be in Health, my mom and I haven't fought, and I haven't had the temptations to do the bad things I used to. Thank you for saving our relationship!" C
"I was saved at seven years old. My dad is a pastor, and I've been going to church since birth. My family has raised me to fear the Lord, but I never truly started following Him until about two years ago when I was hit with a huge conflict in my life. Fear has always been something I have struggled with. I was afraid of sinning. At the beginning of my freshman year, the enemy began to try and scare me by telling me that I was attracted to other girls. I was so afraid; I did not want that to be me. I knew that it was not of the Lord, and I wanted no part of it. I avoided girls, movies, books, anything that might spark a thought. It wasn't until about a year had passed that I decided to get medicine because the torment had made me depressed and anxious. That lifted me out some by giving me energy that I needed to fight. I am thankful for the hope and faith to truly overcome my issues and even more thankful to know how to go to God with them." C
What are you waiting for?
If God can do so much for these young lives, imagine what He can do for you and your family too! We encourage you, if you haven't already, consider attending one of our For My Life Retreats this year. If you cannot come to us, we also offer the For My Life Online option. If you've been here before, maybe it's time for a refresher. People often report that God impacted their hearts in different ways each time they participated with the For My Life Retreat.  We see many people return again and again finding new hope and newness of life with every new season.
And, of course, we encourage you to prayerfully consider bringing your whole family here for our next For My Life Family Week. We are confident that God will meet you in your overcomer journey, whatever your needs may be.
Will you join us in our mission to establish generations of overcomers?
Blessings,
The Be in Health Team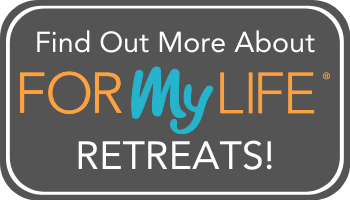 Would you like to read more articles like this?
Pin it to spread the word and save this article for later!