God Restored My Life
At Be in Health®
Why I came to Be in Health®
I came to Be in Health® with a pituitary brain tumor. In addition, I had leaky gut syndrome, Sjogren's syndrome, Hashimoto's disease, extremely cold hands and feet, and insomnia. I barely had enough energy to get out of bed in the morning.
My son was also struggling. We found out that he had an allergy to milk and eggs, he was also afflicted with eczema. To top it all of, he had a lot of fear and he would wake up five times every night. 
The downward spiral…
My body got into that rhythm and I'd go to bed wondering when he'd get up again. I got to the point where I couldn't sleep at all; I'd have insomnia all night. In addition, I was running a business for a long time and I was so tired I couldn't work anymore. Growing up, my dad pushed me really hard, and as an adult, I worked with him. Because of that, I was very driven, that added to my exhaustion. When I learned about drivenness and performance at Be in Health®, it was a huge eye-opener.
Discovering the brain tumor
When I was 26 weeks pregnant with my second child I went to the doctor because I was having a little bit of blurred vision and headaches. I had some tests done and my numbers were off the charts so they did an MRI. That is when they found a large pituitary tumor on my brain. It was in a place where they could not operate but they gave me medication to manage it.
Unfortunately, I was unable to breastfeed that baby because of the medication. I was also told never to have children again. But I got pregnant with our third child which was a miracle in its self. I still had the tumor but it wasn't as big and we had it managed.
How I found out about Dr. Wright's ministry
We hired a stay at home nanny to help me to care for the kids, which ended up being a big help when I got so sick. At one point our nanny brought Dr. Henry W. Wright's book, A More Excellent Way, to me and said, 'You might not want to read this, but I think you might need to read this.' I read that book through within a week's time. A More Excellent Way gave me a lot of clarity about what was going on in my life.
Later she told me that Dr. Wright's ministry, Be in Health®, also had a retreat in Georgia called For My Life®. She'd found out about Be in Health® through her boyfriend who had been healed at the For My Life® Retreat of cancer in his arm that the doctors said was inoperable. Because of what he learned at Be in Health®, not only was he healed from cancer, but he became a believer and committed his life to Christ.
Taking the leap of faith
When I left to go to the For My Life® Retreat, my husband asked me if I was going to come back because I was in such a state of desperation and confusion.
I had always yearned to know the Lord but I did not grow up attending church. Some good friends in high school took me to church and I always wanted to know more but I struggled reading the Bible and to understand what it said.
When I came home from the For My Life® Retreat, the Word of God suddenly came alive to me. I had an amazing encounter with God there and He opened my eyes to so many things that I never knew about before. I went home full of scripture that helped me in my overcoming process, I stood on it constantly.
Recovery was a process
It took me about a year and a half to completely recover. In that time I worked part-time and then the rest of the time I would read the scriptures and read and listen to Be in Health®'s resources. It was an amazing journey to restoration.
I thank God every day for helping me to become a joyful, thankful person. Even my son had been impacted by the changes in me, as I was able to encourage him and help him with what he's struggling with too. He no longer has any allergies, anxiety, or eczema! 
My first good report!
Also, a week after I got home I got tests done on my thyroid levels. My mom and all of her three sisters had thyroid issues, as well as my grandmother, so my mom was very concerned about me. I was told that even if I was borderline that I should take medication. But my test results came back at completely normal levels, so I didn't need to take thyroid medication anymore! I no longer had Hashimoto's disease!
A second miracle
When I had my fourth child, I started having headaches again when she was only eight weeks old and I began going into fear about it. There had not been any problems while I was pregnant but we went in to get another MRI to check on it. The doctors couldn't even find a trace of the pituitary tumor. I had been completely healed!
Sound doctrine and real revelation for my heart
Some of the key things that God helped me to deal with because of what I learned at Be in Health® were bitterness, drivenness, and self-pity. Self-pity especially was a huge revelation to me, I knew that I had to deal with that first before I could get free of anything else.
Even relationships were restored!
My relationship with my mother-in-law had also been strained for years. While attending the For My Life® class, I recognized that I had a lot of bitterness towards her. So when I went home, I repented to her and my father-in-law and asked for forgiveness from them. As a result, my relationship with them has been restored.
I've also worked through a lot of bitterness issues with my dad, and as I pray for him, God's been giving me a love and compassion for him that I didn't have before.
Continued forward progress
There are still things that I am learning. As I walk out of drivenness, I'm learning that God loves me no matter what I do or don't do today, but it is still something that I wrestle with from time to time. It really is a daily battle to choose to walk in the truth and love of God. I've had such an amazing switch of choosing my thoughts versus just letting them come in and being controlled by them. I'm learning to focus on the positive and cast down the negative thoughts.
I am so thankful!
Be in Health® changed the trajectory of my life, everything from how I parent to how I live my life has been affected in such an amazing way. I am so grateful for everything I have learned and for all that God is doing and has done for me through Be in Health®. God truly has restored my life.
Laura W.
 23 If there be a messenger with him, an interpreter, one among a thousand, to shew unto man his uprightness:

24 Then he is gracious unto him, and saith, Deliver him from going down to the pit: I have found a ransom.

25 His flesh shall be fresher than a child's: he shall return to the days of his youth:

26 He shall pray unto God, and he will be favourable unto him: and he shall see his face with joy: for he will render unto man his righteousness.

27 He looketh upon men, and [if any] say, I have sinned, and perverted [that which was] right, and it profited me not;

28 He will deliver his soul from going into the pit, and his life shall see the light.

29 Lo, all these [things] worketh God oftentimes with man,

30 To bring back his soul from the pit, to be enlightened with the light of the living.

Job 33:23-30 KJV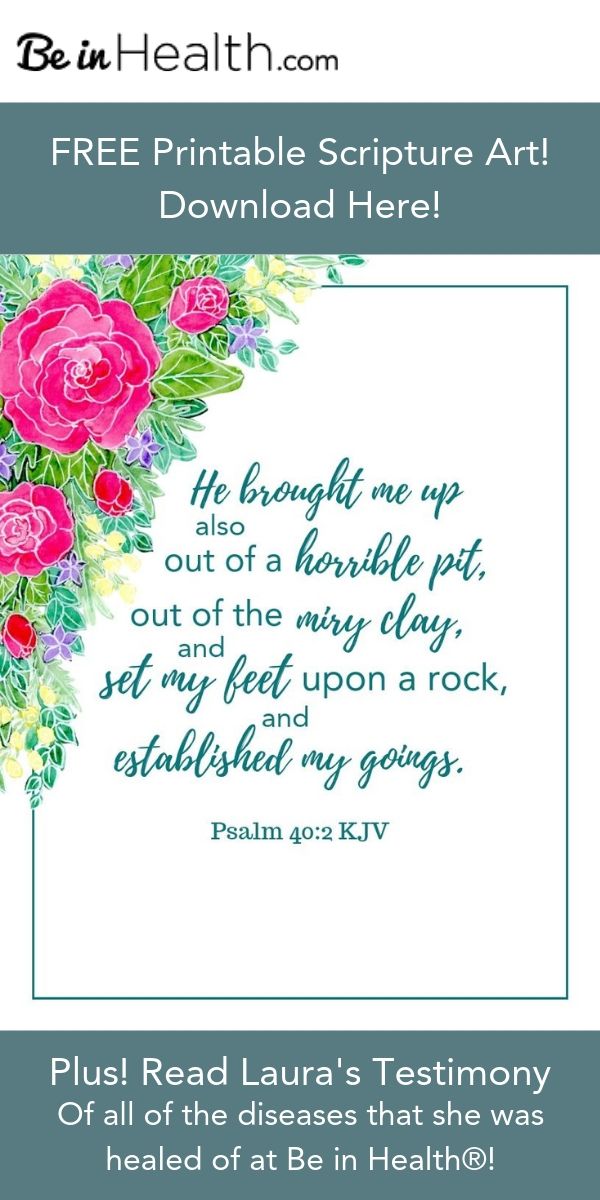 Please fill in your information below to receive this FREE Printable Scripture Art Download in your inbox!