God Healed Lauren of Lupus
7 Keys that Helped Her Overcome
I Recognized the root issue immediately
I carried guilt around for years, not knowing that it was the cause of my illness.  My sister told me about Be in Health®, and I saw that guilt was the root of lupus in Dr. Henry Wright's book, A More Excellent Way®. Immediately knew that I had to make a major change in my life.  The roots in the book were so accurate that I was shocked!  The book was talking directly to me. I had thought that if I walked around through life with a smile on my face that no one would ever know the guilt that I was feeling inside. But that was not the case because I was living in bondage. 
The door point
Shortly after graduating college, I got married to my first husband in 2007 and I soon realized that I had made a mistake, and I divorced him and moved out into my own apartment after a year and a half.  He was not a bad guy, just not the guy for me. My actions were selfish, that is true, and this is the reason why I felt so guilty for divorcing him. I received hate mail from my ex-in-laws after the divorce and they said horrible things about me.  The guilt went on for about three years before I experienced the lupus symptoms and received the diagnosis. 
Where I found hope
When I was diagnosed, the doctors told me that there was no cure, all they could do was "manage" the disease. I walked out of the doctor's office and I called my sister while I was in the hallway. She told me about Be in Health® and soon after gave me Dr. Wright's book.  I attended a 3-day conference that Dr. Henry Wright did in Minnesota and I was blown away by what I heard. It was the truth!  I hung onto every word he said.
Having grown up as a Catholic, we never talked about spiritual warfare; I did not even know it existed.  I especially didn't realize that my guilt was a door point for the enemy!  That was something I had to fix that a.s.a.p.!! 
Learning how to be forgiven and forgive myself
Growing up I thought that you ask for forgiveness, and hope for the best.  Through what I learned at Be in Health®, I realized that I needed to ask for forgiveness, and truly receive it.  My sins were TRULY forgiven because of what Jesus did at the cross.  I had to forgive myself as well, which took some time, but I was able to do it. 
My healing wasn't instantaneous, it was a process
I used to beg for God to heal me from the lupus symptoms instantaneously, but I later found out He was working on something so much greater.  He was teaching me slowly and bringing me closer to Him because he wanted me to stay close to Him permanently! He was not only interested in my physical healing but in the recovery of my spirit as well!
Guilt and shame is defeated in my life
As I type this right now, I feel no guilt or shame about the divorce because I have confessed it as a sin to God, and asked for and received forgiveness!  I also attended the one week For My Life® Retreat at Be in Health® in 2014 and was baptized. This solidified my status as a child of God and truly washed me completely clean.  After that, my symptoms gradually disappeared!!
It was not an easy process and took time and lots of learning (I needed the knowledge!), but I can say with confidence that I am now healed from lupus. 
7 things I practiced to help me overcome lupus:
-Asked for and received forgiveness from God, because Jesus died for my sins on the cross. Reminding myself of that constantly. 
If we confess our sins, he is faithful and just to forgive us [our] sins, and to cleanse us from all unrighteousness. 1 John 1:9 KJV
-Did not identify with the disease, I always referred to it as THE lupus, never "my" or "mine" because it was just some thing that was currently affecting me. 
For our light affliction, which is but for a moment, worketh for us a far more exceeding [and] eternal weight of glory; While we look not at the things which are seen, but at the things which are not seen: for the things which are seen [are] temporal; but the things which are not seen [are] eternal. 2 Corinthians 4:17-18 KJV
-Kept my confidence in God. Knowing that he was going to heal me, and believing in Him and His timing for my healing.
Being confident of this very thing, that he which hath begun a good work in you will perform [it] until the day of Jesus Christ. Philippians 1:6 KJV
-Read the testimonies of others' healing.  I remained hopeful always, even when laying in a hospital bed and it seemed impossible!
Blessed [is] the man that trusteth in the LORD, and whose hope the LORD is. For he shall be as a tree planted by the waters, and [that] spreadeth out her roots by the river, and shall not see when heat cometh, but her leaf shall be green; and shall not be careful in the year of drought, neither shall cease from yielding fruit. Jeremiah 17:7-8 KJV
-Constantly (daily/hourly for a while!) rebuked the devil. Telling him he had no right to my life, and I belonged to God!
Behold, I give unto you power to tread on serpents and scorpions, and over all the power of the enemy: and nothing shall by any means hurt you. Luke 10:19 KJV
-Immediately rebuked guilty thoughts that would pop into my head. In fact, I would turn it around and say "Yes, that did happen in my life, thanks devil for the reminder of God's love and forgiveness!", or "Good thing I am forgiven! Thank you God!"  
Submit yourselves therefore to God. Resist the devil, and he will flee from you. James 4:7 KJV
-Thanked God continually for the healing that I knew was coming. Of course, now I continue to thank God often for my healing and all my other blessings.
6 Be careful for nothing; but in every thing by prayer and supplication with thanksgiving let your requests be made known unto God. 7 And the peace of God, which passeth all understanding, shall keep your hearts and minds through Christ Jesus. 8 Finally, brethren, whatsoever things are true, whatsoever things [are] honest, whatsoever things [are] just, whatsoever things [are] pure, whatsoever things [are] lovely, whatsoever things [are] of good report; if [there be] any virtue, and if [there be] any praise, think on these things. Philippians 4:6-8 KJV
I am so grateful
I am happily married now to my second husband. When I was diagnosed with lupus the doctor told me that because of the harsh medication that I had to take, I shouldn't even try to get pregnant. Since I've been healed and no longer need that medication, we have had two sons. During my pregnancy with my second son, the doctors still considered me high risk because of my health history. But at each of my weekly ultrasounds, they saw great results, and my son was born totally healthy and strong!!
I am so grateful to Be in Health® for sharing the truth with me.  I hope that my testimony can help others overcome as well!
Lauren H.
FREE Printable Scripture Art:
"7 Scriptures to Help You Be An Overcomer"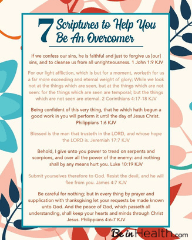 [email-download download_id="13851″]