Choices and Consequences Reclaim Your Life
Choices have consequences
Everything we do and experience is a product of choices. Either they are choices made by us or by someone else. Many of us don't realize that our choices have far greater consequences than what we simply see in the physical. There is a spiritual world behind the scenes that not only influences our choices but uses those choices to set in motion things beyond our understanding or perception. That's why God puts such weighty choices between life and death, blessings and curses in the Bible, to jolt us into taking personal responsibility in the battle for our lives. He wants us to understand the power of our choices and the consequences that come with them.
I call heaven and earth to record this day against you, [that] I have set before you life and death, blessing and cursing: therefore choose life, that both thou and thy seed may live. Deuteronomy 30:19 KJV
If God takes our choices so seriously, perhaps it is time that we pay more attention to them too.
Choices and consequences: think of it as preparing a strategy for battle.
If a soldier were to fling himself haphazardly into the thick of the battle without any clear objective or understanding of the enemy that he is dealing with, the outcome is unlikely to be positive. He could have been eager and zealous, but he never weighed the consequences of his choice.
Likewise, the choices we make may be based on feelings or impulses without weighing the possible outcome of those choices, we actually have no idea what scheme we could be playing into. We might be inadvertently promoting the enemy's kingdom in our lives. All because we are not paying attention to our thoughts and the value of our choices. We all have to make choices and all of those choices have consequences.
Invisible warfare
The Bible says that we do not wrestle against flesh and blood but against principalities and powers; our warfare is not physical but spiritual. That is why it is so important to recognize the source of our thoughts. We need to put the bigger picture into perspective and learn how to recognize the spiritual battle that surrounds us daily.
For we wrestle not against flesh and blood, but against principalities, against powers, against the rulers of the darkness of this world, against spiritual wickedness in high places. Ephesians 6:12 KJV
A familiar scenario
We need to recognize and understand what is driving us. What is influencing our thoughts and decisions and what ulterior motives might it have? Here's example of what might happen: Perhaps there is a person who does something that annoys us or we think is kind of strange. Next thing we know, we are talking to a good buddy of ours, and we have this strong impulse to tell them all about the matter.
So what? It was just a silly little thing, right?
Well maybe, but if we look deeper behind the scenes, we can discern pretty quickly that the Holy Spirit would not have led us to uncover a person that way. So who influenced that thought or impulse? The enemy can have an ulterior motive here, to us it seems like a silly little thing but what if there is a larger agenda behind it spiritually?
Perhaps that person is struggling with fear of man and rejection, now when our friend sees that person again, they have this image of them which is somewhat less than respectful. It could skew the way they see them and how they interact with them. What if what that person really needed at that time was someone to represent God's love and grace and mercy towards them? Score 1 point for the enemy's kingdom.
Whose side are you on?
Our choices will either establish God's kingdom or the enemy's kingdom in our lives. If we are focused on ourselves and our own best interests, what kingdom are we giving the point to? Here's a hint, God's kingdom represents love- looking outwards toward the needs and welfare of others in addition to ourselves. So if we are choosing to serve the kingdom of self, we can expect to receive the consequences of that choice. These consequences could include breakdown and separation in relationships with God, others, and even ourselves, and as a result possibly breakdown of our health.
As the bird by wandering, as the swallow by flying, so the curse causeless shall not come. Proverbs 26:2 KJV
Conversely, what if we choose to seek first the Kingdom of God and His righteousness?
What if we decide that we want to represent our Father's heart in the earth and we allow Him to grow His love in our hearts towards others?
What kind of consequence will that bring?
When we follow God's ways and seek to understand His heart and His character and then represent that to others we will see good fruit grow in our lives. We will see restoration of relationships for one and also health and healing would be another possibility. We will also see the good fruit of the Spirit growing in our lives like love, joy, and peace.
But seek ye first the kingdom of God, and his righteousness; and all these things shall be added unto you. Matthew 6:33 KJV
Does this sound like a blessing or a curse?
So we see here, by the simple logic of cause and effect, how what we choose to believe and follow will either bring the blessings of God or the "blessings" of the enemy which are the consequences of the curse.
And it shall come to pass…
And it shall come to pass, if thou shalt hearken diligently unto the voice of the LORD thy God, to observe [and] to do all his commandments which I command thee this day, that the LORD thy God will set thee on high above all nations of the earth: And all these blessings shall come on thee, and overtake thee, if thou shalt hearken unto the voice of the LORD thy God. Deuteronomy 28:1-2 KJV
What are the commandments that we are called to observe today under the New Testament covenant?
According to the Bible, the commandments of the New Testament are that we believe in God's only begotten Son, Jesus Christ, and that we love God, ourselves, and one another. This is the place where God's blessings will come and overtake us; where we will be living in the fullness of life that we were called to.
21 Beloved, if our heart condemn us not, [then] have we confidence toward God. 22 And whatsoever we ask, we receive of him, because we keep his commandments, and do those things that are pleasing in his sight. 23 And this is his commandment, That we should believe on the name of his Son Jesus Christ, and love one another, as he gave us commandment. 24 And he that keepeth his commandments dwelleth in him, and he in him. And hereby we know that he abideth in us, by the Spirit which he hath given us. 1 John 3:21-24 KJV

37 Jesus said unto him, Thou shalt love the Lord thy God with all thy heart, and with all thy soul, and with all thy mind. 38 This is the first and great commandment. 39 And the second [is] like unto it, Thou shalt love thy neighbour as thyself. 40 On these two commandments hang all the law and the prophets. Matthew 22:37-40 KJV
Choices and consequences are not all about you anyways.
Although we can think otherwise, maybe our choices are not all about us. What if we used them to represent God's heart, Word, and will in the Earth? Our choices can be of a far greater consequence than we ever realized before. What will you choose today?
And if it seem evil unto you to serve the LORD, choose you this day whom ye will serve… but as for me and my house, we will serve the LORD. Joshua 24:15 KJV
Blessings,
The Be in Health Team®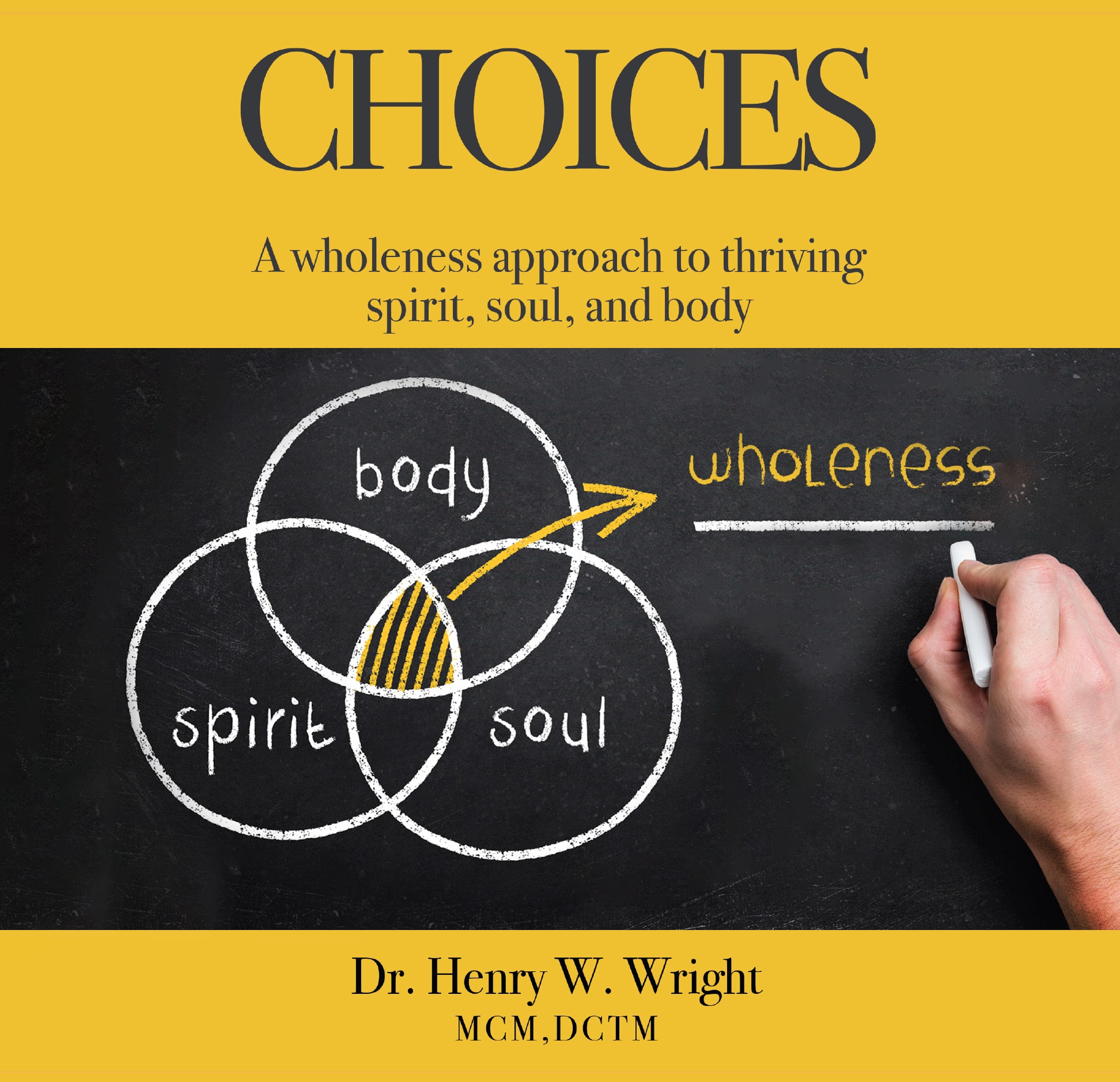 Do you want to learn more about the power of our choices, what influences them, what the consequences of them are, and how to bring glory to God in your life? Then you will love Dr. Henry W. Wright's new teaching, Choices, now available in our Resource Center!