Sometimes what looks like the symptoms of depression may actually be the effects of a spirit of Self-Pity. Self-Pity will keep you so focused on your problems in the present moment that you cannot reach out to God to help you find the solution and move forward into healing for your spirit and your body. Although it may be difficult to recognize, Self-Pity can be identified and defeated and its effects of hopelessness, oppression, heaviness, and depression can be removed too. Here are some keys to help you identify and overcome Self-Pity and depression symptoms in your life as well as some tips that you can use to help others who are struggling with it.
Why is Self-Pity so comfortable?
The first thing that we need to understand about Self-Pity is why it's so easy to fall into its trap. Self-Pity can be highly addictive – it is self-indulgent and causes us to dwell on our own misfortunes, griefs, and sorrows. It makes us believe that our current thoughts represent reality. It begs for others' pity because it is looking for a certain kind of attention.
Sadly, for some people, when they feel self pity, it is the only "positive" affirmation they feel like they can get from loved ones. This can make it challenging for them to even want to overcome it. When they feel self pity, it can act as a mental anesthesia that numbs the pain in a way, yet the person stuck in it is unwilling to properly address or deal with whatever is causing the pain. Many people feel self pity, which affects their overall mental and emotional state. Their mental strength is affected as well and they can have a hard time trying to perceive reality. Their emotional state influences their daily activities and can make it difficult to overcome self pity. 
Discernment and key strategies to overcoming Self-Pity
To be overcomers we need to be willing to submit every thought, pattern of behavior, and self-will to God, holding it up to the light and recognizing where its source is coming from. We also need to be willing to cast all of our cares on God so that He can begin to start bringing true healing to our hearts.
Casting down imaginations, and every high thing that exalteth itself against the knowledge of God, and bringing into captivity every thought to the obedience of Christ; And having in a readiness to revenge all disobedience, when your obedience is fulfilled. 2 Corinthians 10:5-6 KJV
Casting all your care upon him; for he careth for you. 1 Peter 5:7 KJV
If we identify a spirit of Self-Pity at work in our lives that is feeding us thoughts, feelings, and emotions that are not from God, we can be absolutely certain that it has an ulterior motive. And that motive is NOT for our good or benefit and can be downright self destructive. It may take some courage to want to deal with and overcome a negative mindset, and also some humility. Self-Pity can be established in pride in our misery; at Be in Health, we call it a victim or false martyr mentality.
Here are some of the possible harmful effects and results of Self-Pity:
Self-Pity takes life's inevitable hardships and bad things and brings them to the forefront of our focus. Then it tells us that

"nothing ever goes well for us"

and makes these lies seem as if they are the truth.

Self-Pity hides the truth from us. It is

occultic

in nature because it occludes (covers up) the truth and changes our perspective to keep our focus on the lie.

It seeks to establish the lie of

fatalism

in our lives and make us believe that nothing will ever improve.

Self-Pity also tries to

isolate

us by deceiving us into thinking that we'll be safe from being hurt further if we withdraw from people.

It succeeds in isolating us by

using negative thoughts, feelings, and emotions to push people away.

This creates a vicious cycle of pushing others away and feeling more and more rejected.

It is

self-sustaining

; it can convince us that we don't need anyone else.

Self-Pity

binds us to our past

and does not allow us to move forward. It's like trying to drive down the highway while only looking in our rearview mirror and wondering why we keep on crashing.

It takes on a

victim's role

; always the victim but not interested in looking for a solution, or in taking responsibility for one's own life, and it is unwilling to find a way out past self pity.

Self-Pity can be

manipulative and punishes

others if they don't give in to enabling it.

It can make others

feel guilty

for not bending toward it – it questions their love etc.

It is always close to

anger

and may erupt at any time

Self-Pity always has to place the

blame

– it has to find out whose fault it is, yet it is never their own.

It always has a

reason why

we cannot overcome- a person with Self-Pity may say, "You just don't understand!"

It lives closely to jealousy and envy.
Something you need to understand:
The principle of separation is important to apply when we recognize the workings of this spirit in a person's life or even in our own. It is a spirit, it is not us. It feeds us thoughts, feelings, and emotions that we accept and agree with. Once we reject and remove the spirit of self-pity, we can live at peace again and begin to move forward into restoration and recovery.
It is all in our perspective. What we choose to listen to and agree with will become our reality. God offers real solutions to recovering our perspective and delivering us from the snare of Self-Pity and depression. 
A man is as miserable as he thinks he is. ~Lucius Anndeus Seneca
First steps to counteracting and eliminate Self-Pity:
We have to be determined to

start believing God

and what He says in His Word, despite the thoughts, feelings, emotions, and conclusions of Self-Pity and fatalistic thinking.

We have t

o recognize warning signs and

admit

when we have it. Only then can we begin to act against it.

We have to actively

choose

to come out of agreement with it and make a quality decision to overcome it. Self-Pity must become our enemy, it's not our friend or false comforter.

We must learn to

recognize

the thoughts and feelings that come with Self-Pity when it tries to overtake us. Rather than think it feels "right" or "normal," we must see it for what it is and

resist it.

We must

seek restoration

– how are we going to move forward and address

life's inevitable hardships

rather than dwell on them? Remember who your source is, not your own works or understanding, not other people, but God alone. 
Switching our perspective from the physical to the spiritual.
We can ask God to give us His perspective on the matter (Psalm 27). In fact, we can assure you that God has a more realistic perception of whatever we are struggling with. We may feel stuck in the midst of it and it may feel overwhelming and all-consuming, but God sees the whole picture. He has already prepared a path of escape for us if we will just reach out to Him and submit our ways to Him. We may feel uncomfortable in the process of choosing to trust Him and purging our hearts of those ungodly ways of thinking that are not us anyway. Yet the eternal benefits will far outweigh any temporary discomforts or frustrations.
There hath no temptation taken you but such as is common to man: but God is faithful, who will not suffer you to be tempted above that ye are able; but will with the temptation also make a way to escape, that ye may be able to bear it. 1 Corinthians 10:13 KJV
Remember this one thing:
What shall we then say to these things? If God be for us, who can be against us? Romans 8:31 KJV
God is on your side. He loves you completely and unconditionally no matter what, and He wants the absolute best for you. This life will have struggles, hardships, hurt, and pain because we live in a fallen world, but nothing, absolutely nothing is bigger than Him.
When we face struggles, trials and tribulations, pain, fear, whatever it may be we have to make it a practice to take it straight to God first. When we try to process it on our own, when we try to figure it out, place blame, or fix it ourselves, we are very susceptible to the enemy's attacks and more likely than not, we will come up with an ungodly conclusion.
Turn on your God filter
If, however, we let God be our filter for every care, He can give us His perspective and lead us away from the snare of the enemy and into His peace, wisdom, hope, strength, and love. We get to choose who our source is!
Self-Pity would love to be that source so that it can keep us swimming in the mud pits of our woes. Don't let it keep you there!
God can lead us through every storm so that we come out on the other side even stronger than we were before. He can heal every broken heart so that we no longer have to fear rejection or being hurt by man because we trust Him that He can heal us. In fact, He can turn our perspective around so radically that rather than fearing man, we love others the way He does with the desire to bring them to healing and recovery in our Heavenly Father.
7 Casting all your care upon him; for he careth for you. 8 Be sober, be vigilant; because your adversary the devil, as a roaring lion, walketh about, seeking whom he may devour: 9 Whom resist stedfast in the faith, knowing that the same afflictions are accomplished in your brethren that are in the world. 10 But the God of all grace, who hath called us unto his eternal glory by Christ Jesus, after that ye have suffered a while, make you perfect, stablish, strengthen, settle you. 11 To him be glory and dominion for ever and ever. Amen. 1 Peter 5:7-11 KJV
Helping others
If you have someone in your life who is struggling with Self-Pity, they will probably not appreciate you telling them so. A spirit of self pity does not like to be poked, and it doesn't want to be recognized – it will always try to be small and insignificant, yet under the surface it is overpowering and all-consuming. It's objective is to keep someone living in a pitiful life so they can never move forward as overcomers in Christ Jesus.
5 things you can do to help someone who is in Self-Pity:
You cannot pity

them because that will not help them overcome their problems. But rather, let them know that you will

be their cheerleader

to encourage them on the road to recovery. You can still have empathy and compassion but not in

codependence (Read more about codependency here)

.

Submit them to God

, pray for them in your personal time with God and ask Him to give them a desire to recover themselves and restore their hope.

Lead them to God

– don't try to fix them or be their Holy Spirit, that is not going to help them. That will make you their source and you may easily get

worn out and frustrated

with little good fruit to show for it. Always point them back to the

Father and His love

.

Give them

nuggets of truth

to chew on, maybe share a scripture with them or a testimony from your own life or of another person who has been healed.

Understand that you don't need to understand

what they are dealing with; that's not the point! They may say "But you just don't understand!" or "Nobody can understand what I am going through or how I feel!" These statements are designed to draw us into commiserating or

codependency

with them but that will not be helpful to them. We can still have love and compassion for them. We don't have to devalue or cast down their feelings but the most valuable thing that we can do is to lead them to the one who did experience every manner of hardship yet overcame. They will find hope and restoration in the One who already defeated the problem; in Jesus Christ and in the

love of God the Father

.
14 Seeing then that we have a great high priest, that is passed into the heavens, Jesus the Son of God, let us hold fast our profession. 15 For we have not an high priest which cannot be touched with the feeling of our infirmities; but was in all points tempted like as we are, yet without sin. 16 Let us therefore come boldly unto the throne of grace, that we may obtain mercy, and find grace to help in time of need. Hebrews 4:14-16 KJV
If they lash out in anger when you don't give into their charade,

don't take it personally

.

Don't argue

with it either, you cannot please an evil spirit. It is not them anyway,

and perhaps at the moment, they can not perceive reality correctly

. Be thoughtful to understand

what their emotional state influences as far as their fram of mind but also recognize what is influencing their emotional state.

Let them know that you love them and then learn how to either change the subject or graciously remove yourself until they can cool off.
A soft answer turneth away wrath: but grievous words stir up anger. Proverbs 15:1 KJV
Follow the example of these scriptures:
24 And the servant of the Lord must not strive; but be gentle unto all men, apt to teach, patient, 25 In meekness instructing those that oppose themselves; if God peradventure will give them repentance to the acknowledging of the truth; 26 And that they may recover themselves out of the snare of the devil, who are taken captive by him at his will. 2 Timothy 2:24-26 KJV
13 Who is a wise man and endued with knowledge among you? let him shew out of a good conversation his works with meekness of wisdom. 14 But if ye have bitter envying and strife in your hearts, glory not, and lie not against the truth. 15 This wisdom descendeth not from above, but is earthly, sensual, devilish. 16 For where envying and strife is, there is confusion and every evil work. 17 But the wisdom that is from above is first pure, then peaceable, gentle, and easy to be intreated, full of mercy and good fruits, without partiality, and without hypocrisy. 18 And the fruit of righteousness is sown in peace of them that make peace. James 3:13-18 KJV
Most importantly!!!

Submit yourself to the leading of the Holy Spirit,

be quiet when He does not give you words to say, and speak what He leads you to speak.

Don't come with an agenda-

Don't decide in advance what needs to be said and done to help them or try to fit their recovery into a timeline; that is completely between them and God by the leading of the Holy Spirit.
It does not need to manipulate you or others anymore. Our God is for you! No weapon that is formed against you shall prosper, and God can turn everything that the enemy intended for evil into good for His glory.
And we know that all things work together for good to them that love God, to them who are the called according to his purpose. Romans 8:28 KJV
You get to choose this day whom you will serve, Self-Pity and depression, or God your Father.
Be patient with yourself and others
The patterns of thought from Self-Pity may still be a programmed way of responding to adversity even after the spirit of Self-Pity has been defeated and removed. The Word says that the just man falls seven times and rises up again (Proverbs 24:16). That means that no matter how many times we get tripped up, we can keep on picking ourselves up, repenting, and trying again until we develop strength and endurance in righteousness.
The good news is that we do not have to allow Self-Pity and depression to be "normal" in our lives any longer! We can recognize it for what it is and choose to remove it and resist it before it leads us into negativity, hopelessness, and depression. Instead, we can choose to believe God and His Word and build self confidence in who God sees us as – washed clean and blameless by the precious blood of Jesus Christ. We don't have to overcome it on our own, God will be with us every step of the way to lead us, give us wisdom, instruction, and the strength we need to endure and overcome Self-Pity and depression.
Blessings,
The Be in Health® Team
Are you ready to exchange the negative effects of self-pity for God's love, peace, hope, and joy?
We want to join you in your overcomer's journey. Many people have been healed, delivered, and set free from the works of the enemy in their lives including disease, relationship breakdown, and mental health challenges. Be in Health provides a safe place for you to receive the love, instruction, and understanding you need to become an overcomer through our For My Life Retreats. Perhaps it's time for you to take some time out for your life and to prepare your heart for the blessings that God has prepared for you.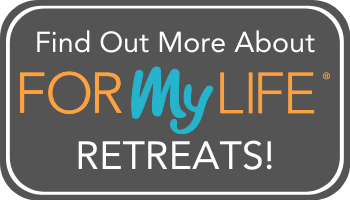 FREE Printable Scripture Art!
Would you like to read more articles related to this subject?
Pin this article to save it for later and to spread the Word to others!