There are so many opinions out there about how to search for or obtain healing. Some people believe that sometimes sickness or disease is God's will, while others believe that He only selectively heals certain people. What we really need to ask ourselves is what does the bible say about healing?
The good news about God's will for your health
Dr. Henry W. Wright, along with the Be in Health® Team has had over thirty years of experience, seeking God for what He says about healing, studying scripture, teaching it, and observing real results in people's lives. The conclusion is simple, it is not God's will that we are sick, and He wants to heal ALL your diseases!
That doesn't mean that He can't use even what the enemy intended for evil in our lives for good and His glory. It also doesn't mean that we can't learn and grow when we are facing illness. But ultimately God's purpose is to deliver you from all your sins and to heal all of your diseases. Why? Because He wants you to thrive in the wholeness of life and the plan that He has prepared for you!
Bless the LORD, O my soul, and forget not all his benefits: 3 Who forgiveth all thine iniquities; who healeth all thy diseases. Psalm 103: 2-3 KJV
The following is a testimony of a woman who was healed when she received and applied the Biblical truth that we present at Be in Health to her life. Hers is one of tens of thousands of lives that have been restored to health and wholeness in God.
Christine's Testimony of Healing in God
Christine came to Be in Health in a place of desperation. She had tried everything she could find in the medical community and alternative health, and nothing else was working. She was diagnosed with Grave's disease in 2002. She had also suffered through five miscarriages. She says at times she felt like she was going crazy. Yet she had a family that she still needed to care for and she wanted so desperately to find some sort of relief; she couldn't deal with the pain anymore. Life seemed hopeless.
The good news that God still heals brought hope
Then a friend came home after attending a week-long For My Life® retreat. Her friend mentioned that Christine may be struggling with a spirit of fear. Christine didn't know what to do with this information but she searched the Word of God for herself and found that it really did talk about a spirit of fear and that God had a better plan for her life. For the first time in years, she had a glimmer of hope.
For God hath not given us the spirit of fear; but of power, and of love, and of a sound mind. 2 Timothy 1:7 KJV
God's truth and love restored Christine to good health
When Christine attended the For My Life Retreat herself, she was so relieved to finally get answers to her questions and solutions to the challenges that she was dealing with. Most importantly she discovered Father God's true heart of love and compassion for her. She realized for the first time that she truly was His beloved and accepted daughter. With that revelation and as she practically applied the principles that she had learned at the retreat to her life, her health was completely restored to her.
Christine is now completely healed from Grave's disease! Not only that, she had another baby when she was 46. She says she now has complete energy and feels full of life. In the place of hopelessness and oppression, she had a new peace and joy. God truly has restored to her the years that the enemy had stolen from her.
How Jesus Christ heals all your diseases today
God anointed Jesus Christ to heal all diseases and deliver us from our sins. His blood works to cleanse us from unrighteousness when we repent and receive His forgiveness for our sins. The Holy Spirit works in us to heal us and deliver us from bondage to sin by giving us revelation and understanding of the Word of God and giving us the power to remove the kingdom of darkness from our lives.
Christ Jesus healed the sick, cast out devils, led the people to the Father, and taught about the Kingdom of God. Those are the same works that He wants us to continue in the world today. At Be in Health, we endeavor to keep those works alive through the revelation of the Word of God and the power of the Holy Spirit working in us and through us.
The link between spiritual healing and physical healing
We've observed that oftentimes, God wants to lead us to spiritual healing before we receive physical healing. What is spiritual healing? It's the work of God in our hearts to heal and deliver us from trauma, broken heartedness, fear, anxiety, hopelessness, depression, bitterness, and any other form of oppression from the enemy. This doesn't discredit miraculous healing which we are excited to see more frequently in these latter days. Yet when we lay hands on and pray for someone and they don't receive their healing, it's time to dig deeper and ask God to reveal anything spiritual that is getting in the way of our healing.
Is any sick among you? let him call for the elders of the church; and let them pray over him, anointing him with oil in the name of the Lord: 15 And the prayer of faith shall save the sick, and the Lord shall raise him up; and if he have committed sins, they shall be forgiven him. 16 Confess [your] faults one to another, and pray one for another, that ye may be healed. The effectual fervent prayer of a righteous man availeth much. James 5:14-16 KJV
A solid Biblical foundation is the only way to lead people to complete healing in God for their spirit, soul, and body
Everything taught in the For My Life Retreat at Be in Health is solidly grounded in the truth from God's Word. All of this works together to give attendees the big picture of what it means to be successful overcomers and spiritual people in a physical world.
We put a significant amount of effort into teaching God's people how to discern patterns of thinking, speaking, and acting that are influenced by the enemy. We also help attendees understand God the Father's heart of love and compassion for them and His plans and purpose for their lives. In addition, we teach about the importance of the role of the Holy Spirit in our lives and administer the Baptism of the Holy Spirit as well as Water Baptism.
The blessing that comes as a result of receiving and applying these Biblical principles is spiritual and emotional freedom and often physical healing.
And the very God of peace sanctify you wholly; and [I pray God] your whole spirit and soul and body be preserved blameless unto the coming of our Lord Jesus Christ. 1 Thessalonians 5:23 KJV
What does the bible say about healing?
It is essential in our journey of overcoming and recovery that we understand and believe who we are in God and what the Bible says about healing. Here is a list of Bible verses and healing scriptures that contain the truth about God's will for healing and wholeness in Him.
1. If you are born again, you are already an accepted and beloved child of God.
But as many as received him, to them gave he power to become the sons of God, even to them that believe on his name. John 1:12 KJV
For ye have not received the spirit of bondage again to fear; but ye have received the Spirit of adoption, whereby we cry, Abba, Father. Romans 8:15 KJV
2. Father God is not angry with you.
The LORD is merciful and gracious, slow to anger, and plenteous in mercy. He will not always chide: neither will he keep his anger for ever. He hath not dealt with us after our sins; nor rewarded us according to our iniquities. For as the heaven is high above the earth, so great is his mercy toward them that fear him. As far as the east is from the west, so far hath he removed our transgressions from us. Like as a father pitieth his children, so the LORD pitieth them that fear him. For he knoweth our frame; he remembereth that we are dust. Psalm 103:8-14 KJV
3. He wants to come alongside you to raise you up and help you to recover yourself out of the snare of the enemy.
Surely he shall deliver thee from the snare of the fowler, and from the noisome pestilence. He shall cover thee with his feathers, and under his wings shalt thou trust: his truth shall be thy shield and buckler. Psalm 91:3-4 KJV
Beloved, I wish above all things that thou mayest prosper and be in health, even as thy soul prospereth. 3 John 1:2 KJV
5. God does not make mistakes; every good and perfect gift comes from Him. If it is not a good and perfect gift, it comes from the enemy, not Him. – We need to know whom to blame and whom to glorify.
Every good gift and every perfect gift is from above and cometh down from the Father of lights, with whom is no variableness, neither shadow of turning. James 1:17 KJV
The thief cometh not, but for to steal, and to kill, and to destroy: I am come that they might have life, and that they might have it more abundantly. John 10:10 KJV
6. God wants to heal all of our diseases!
Bless the LORD, O my soul, and forget not all his benefits: 3 Who forgiveth all thine iniquities; who healeth all thy diseases; 4 Who redeemeth thy life from destruction; who crowneth thee with lovingkindness and tender mercies; 5 Who satisfieth thy mouth with good [things; so that] thy youth is renewed like the eagle's. Psalm 103:2-5 KJV
God can do it for you too!
God is so good and faithful. What He has done for Christine and tens of thousands of others through Be in Health's ministry, He can surely do for you or anyone you know who needs to find hope, healing, and relief. We look forward to joining you on your journey to complete wholeness and health in your spirit, soul, and body.
Blessings,
The Be in Health Team
Will you join us?
The Be in Health Team invites you to join us on this life-changing journey of healing and restoration that we call the overcomers' journey. We want to help you regain your life, overthrow the enemy's works in the world, and be a successful overcomer. We are dedicated to fulfilling the vision and mission to establish generations of overcomers that God charged Dr. Henry W. Wright and Pastor Donna Wright with when they first began the ministry of Be in Health over 30 years ago.
The For My Life Retreat is a 5-day, intensive healing retreat where you can find healing in God for your spirit, soul, and body. It is a safe place to take time out for your life and to be renewed in your mind, spirit, and body by the truth from God's Word.
We have also developed the For My Life Online Course, where you can participate with us from the comfort of your own home.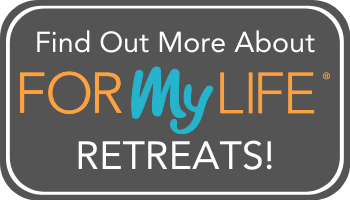 Enter your information below and receive this FREE printable scripture list in your inbox!
Would you like to read more articles related to this topic?
Spiritual Roots of Disease– Discover what causes disease from a spiritual perspective and learn how you can find healing in God for your spirit, soul, and body.
Healing and Honesty – Do you feel like you've tried everything and that perhaps God has let you down? Find hope for your heart and valuable scriptural insights in this encouraging article.
True, Lasting Healing– An introductory webinar to the spiritual roots of disease, what is God's will concerning disease, and what the Bible says about disease.
Pin this article now to save it for later and to share it with others!