(A 6.5 Minute Read)
Three sons
A Father had three sons whom he loved deeply. He enjoyed spending time with them, he enjoyed giving good things to them, and he was even interested in their daily activities. They were each special to him and he was very familiar with each one of them; their personality, individuality and uniqueness.
The first son…
His eldest son always had a heart to please his father and tried to do everything just right. He was creative and passionate about whatever he did. This son took himself and what he did very seriously. He couldn't handle his own failure or the failure of others. He could not stand being corrected. He always had the best of intentions, but he very rarely asked for his father's input or direction. When it was given, he often argued with his Father about it or ignored it entirely. He tried to do things for his father in his own way but cared very little about what his father actually thought.
His father was deeply grieved by this behavior because he loved his son so much and really just desired fellowship and a relationship with him. He had some great plans for his son, but his son was not interested in participating with him. Even though the son had the best of intentions, his decisions just kept leading him further and further from his father's house. His father wanted him to be a part of the family business, instead this son started his own business. Though his business did experience some success, it struggled mostly and it took every bit of that son's energy to keep it afloat.
The second son…
The second child also was eager to please his father, but along the way he made some bad decisions. His deep shame kept him from being able to come to his father or even look him in the eye. His failures always seemed to be glaring back at him. No matter how many times the father told him he loved him, he could not believe it. He just wanted to run from his father's presence.
His father tried everything he could to reach out to him and show him that he wanted him to be a part of the family and his business. He offered forgiveness, provision, shelter and love. However, because the second son felt so much guilt and fear and shame for his failures, he could not bring himself to receive the free gifts that his father held out to him. He determined to find himself a cottage in the woods far away from others so that he could ensure that he wouldn't be able to hurt others or to be hurt ever again. His father grieved greatly for his son and always kept a position open for him in his business should he choose to come home and accept it.
The third son…
The third child, the youngest, was playful and fun loving. He never took anything too seriously, yet was respectful and eager to learn. He loved scrambling up into his father's lap and chatting with him about whatever came to mind. His father joyfully accepted him every time, patiently listening to everything he had to say, answering all of his many questions. They enjoyed each other's company and were always doing things together.
The third son was eager to learn all about his father's business and was so excited to have opportunities to participate. When things got tough or he felt like he had messed up, he would run back to his father and talked it through with him. He always found clarity and peace and comfort in those conversations and his father was always happy to help him recover himself. He grew up to be just like his father and became his father's representative in the family business.
How do you fit in?
Maybe you can identify with one or more of these children. There was no difference in how accepted or loved each one of them was. The difference was in how each child chose to relate to their father. The father had blessings and benefits available to all of them just the same, but only one was able to receive it. The father wanted each of them to participate with him in his business just like God wants you to be a part of His church body and His Kingdom.
Father God's desire for you…
Did you know that our Heavenly Father really desires a relationship with you? He sent His only begotten son, Jesus Christ, to die on the cross so that the curse of the enemy that separated us from Him could be broken. He's offered us an amazing gift, but not all of us are willing to receive it.
The right things in the wrong spirit
As the first son represented, sometimes we come to Him out of drivenness, performance and religion. We think that our works alone will please Him. We try to do everything just right and are afraid that He'd be angry or cast us off if we fail. In fact, we may give ourselves and others very little allowance to fail. We don't realize that God wants us just as we are. We essentially discredit Jesus' gift from the cross.
For by grace are ye saved through faith; and that not of yourselves: [it is] the gift of God: Not of works, lest any man should boast. Ephesians 2:8-9
Are we teachable?
We cannot come to our Father on our own terms. It is essential in our relationship with Him that we are reprovable and able and willing to hear His voice. If we are not reprovable by God, we are no longer teachable and He will not be able to move us and form us into who He created us to be. We will always be struggling and striving, but will never experience the fullness of life that He has offered to us. He won't be able to use us for His Kingdom and His glory, because we won't line our hearts up with His.
Our past does not define our future!
Some of us are more like the second son. Perhaps, like him, we've had a troubled past and made poor decisions or maybe we weren't properly loved or nurtured growing up causing us to feel unlovable. Fear, guilt and shame brings a separation between us and Father God. We know the story of Jesus and even believe in Him, but we are not able to appropriate the gift of forgiveness He's offered us if we'd just repent, drop it and move forward. We don't feel worthy or acceptable and we refuse to accept our position as a child of God. We don't realize how important we are to His Kingdom and His family and that He wants us to be a part of that. No matter what He says about us and to us in His Word, we just can't accept it and we choose to keep on living in bondage and maybe even fall into isolation.
Do we believe Him?
God desires for us to choose to believe Him when He says that we are forgiven and loved. We need to learn how to accept His love and to choose to walk in relationship with Him. We need to begin to walk in forgiveness of ourselves and others so that we can walk in freedom. He knows that we are just kids, He does not expect perfection from us. He is just looking for a child who wants to be like their Daddy and to be about their Father's business.
Like as a father pitieth his children, so the LORD pitieth them that fear him. For he knoweth our frame; he remembereth that we are dust. Psalm 103:13-14
It's up to us!
He's made every provision possible for us to be able to walk in freedom, peace, love and joy. It is entirely up to us whether we will receive that and appropriate that in our own lives. He is never far from us. In fact, He is always near. If we feel separated from Him, that's a good indication that we've believed something other than His voice. Things like bitterness or accusation towards Him, ourselves and others can separate us from Him. We need to root them out and come boldly before the throne of Grace.
Let us therefore come boldly unto the throne of grace, that we may obtain mercy, and find grace to help in time of need. Hebrews 4:16
How to be a child.
There is something amazing about how God calls us His children. Not only is He claiming that we are His and that we are accepted and loved, He's also asking us to start acting like His children.
And Jesus called a little child unto him, and set him in the midst of them, And said, Verily I say unto you, Except ye be converted, and become as little children, ye shall not enter into the kingdom of heaven. Whosoever therefore shall humble himself as this little child, the same is greatest in the kingdom of heaven. Matthew 18:2-4
Like the third son, a child looks up to their Daddy and wants to be just like him. They are eager to spend time with him and to participate in everything that he's doing. Our Father in Heaven is a good Father and He is happy to allow us to do that. This requires open communication and the development of relationship.
Talk to your Father.
Prayer is simply talking to our Father. It's a conversation like one we'd have with a close friend who we can talk to about everything. He's there to help us. He loves to hear us. He wants us to be able to talk every little thing out with Him and to be involved in our healing and growing process.
Be careful for nothing; but in every thing by prayer and supplication with thanksgiving let your requests be made known unto God. Philippians 4:6

Casting all your care upon him; for he careth for you. 1 Peter 5:7
Recognizing His voice.
In addition to talking to Him, we need to have our hearts open to His Holy Spirit that will speak to our hearts. Our ears need to be tuned to know His voice through familiarity with the Word of God. As we grow up and become stronger in that relationship with Him and begin to become who He created us to be, we will be able to represent Him and His Kingdom to those around us.
What is holding you back?
Are you willing to grow up into who your Heavenly Father created you to be, or would you rather forge your own way? Are you willing to allow Him to correct you and teach you? We need to search our hearts and ask Him to show us anything that would keep us from being able to walk in fullness of relationship with Him. Because as we walk in His light and are formed into His image, we will be able to walk in the freedom, peace, love, joy and health that He intended for us.
God wants you to be a part of the family business, will you participate with Him?
Blessings,
The Be in Health Team®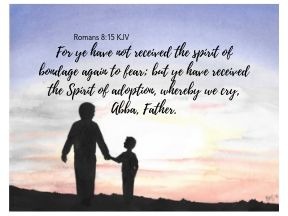 Fill in your contact information below and receive this FREE Printable scripture art with Romans 8:15 in your inbox!
[email-download download_id="13699″]
Would you like to read more about this topic?
SaveSave