How God wants to establish the authenticity of His Word through you and His Church body by healing, miracles, signs, and wonders!
There is much debate today about whether or not the Holy Spirit still works in the church with healing, miracles, signs, and wonders. ACTS Global™ (Association of Churches Teaching and Serving) believes the mandate that Christ gave to the church while He was here still stands today. Not only do we believe it, we see the fruit of it on a regular basis.
The integrity of God's Word and the simplicity of the Gospel
Be in Health® and ACTS Global endeavor to present not only the simplicity of the Gospel but also the integrity of God's Word. We believe that the Bible is God's Word and therefore, cannot be justified or explained away. What God says, He means. With this faith and confidence and the power of the Holy Spirit working through us, God can perform miracles, signs, and wonders in our local gatherings and at our ministry center.
The ACTS Global website states the following:
"Every church, regardless of its background or diversity, should witness the same things recorded in the Bible; signs, wonders, healings, and miracles. These are life-altering tools of God to establish the authenticity of His Word."
In these perilous times, God wants to manifest His greatness through believers to draw people into His family. The harvest truly is plentiful, but the laborers are few.
Today we'd like to introduce the Sheltons who work as ACTS Global Pastors in Dallas, Texas.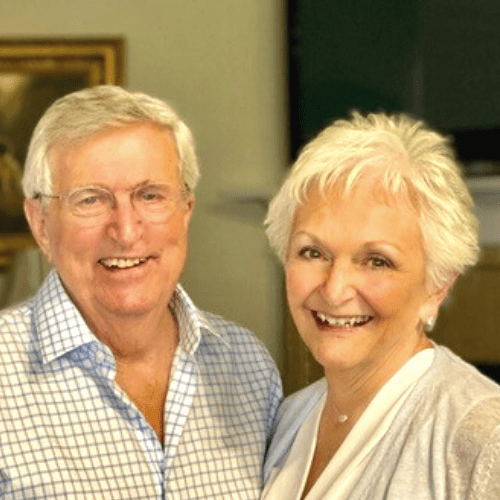 Our names are Don and Jane Shelton. We have three children, two girls, Sloan and Janie, and one son, Daniel. Each has two children, and we count it a privilege to have been so much a part of their growing up into young adults.
We served in the military for twenty years, and upon retirement, the Lord called us into ministry. The vision the Lord imparted to us was to do what Jesus did when he walked the earth.
"The Spirit of the Lord is upon me because he has anointed me to preach the Gospel to the poor; he has sent me to heal the brokenhearted, to preach deliverance to the captives, and recovery of sight to the blind, to set at liberty them that are bruised. To preach the acceptable year of the Lord." –Luke 4:18-19 KJV
Miracles, signs, and wonders were the fruit of our labor
We saw that this was the mandate Jesus spent the rest of His life doing; preaching and demonstrating the Kingdom of God everywhere he went. We took this seriously, and for the last 28 years, we have followed that mandate. Great joy has come as we have been privileged to minister to people and to see the Lord heal, deliver the captives, and do miracles, signs, and wonders through us.
We pastored in Hahn, Germany, for ten years, and then the Lord spoke to us to return to America and place the church in the care of the Germans. It was a journey of faith and growth. We came to America and started a non-denominational church. In addition, we took over a mission in Kenya and Uganda, where we continue to train pastors, youth, and mothers in these very principles of the Kingdom of God.
How we got involved in Be in Health
We became associated with Be in Health in 2005 at a conference that Pastor Henry Wright taught in Dallas. We were amazed at his insight and wisdom about spiritual roots to disease. It opened our eyes to the deeper truth of healing and deliverance. Then my wife, Jane, got a call from her father whom she had only seen once. He told her that he didn't think he was her father, but that her brother's father was her father. He died, her brother's father had passed away, but suddenly she knew it was the truth. Her heart was broken.
A healing encounter with the Father's love
Her brother is Pastor Benny Parish, who is now on staff at Be in Health. She called Benny as she was diagnosed with metal in her body and asked him what the spiritual roots were. He said it was a broken heart. We decided to immediately go to Georgia and go through the For My Life® Retreat. On the first night of the conference, they taught the Father's love. Something rose up in her heart. After receiving prayer, she ran to find her brother. She fell into his arms, and he ministered the Father's love to her. It changed her life.
Joy, completeness, and healing came, and she was a different person knowing the Father's love. It was such a privilege to have her brother minister to her. This so touched us that we stayed for second week-long course. It, too, was life-changing. We have been able to impart these truths to a great multitude, and it has brought much freedom to many. We are forever thankful for what the Lord has used Be in Health for in so many lives!
Our local fellowships
Presently, we pastor Kingdom Harvest Church, which consists of three House Churches, The House of Miracles, The House of Power, and The House of Fire, in the Dallas, Fort Worth area. We joined ACTS Global in 2020 with the vision to continue to impart the principles of Be in Health to those who are in need in our area. It has brought us deep joy to see the response from those who have come!
With much love,
Don and Jane Shelton
Equipping you in the church
Perhaps God has planted a desire in your heart to be equipped and to participate with Him in the wholeness of the Gospel. If you are looking for a local fellowship, we encourage you to check out the ACTS Global website and see if there are any ACTS Churches in an area near you. Each of our churches strives to be a safe place where God's people can learn and grow up together into the fullness of what He created them to be.
Is God calling you to be an ACTS Pastor in your local area?
If you have been impacted and blessed by the teaching and ministry you've received at Be in Health, maybe your next step is to care for His flock and share God's truth with others. Please reach out to us through the ACTS Global website. We look forward to interacting with you and possibly assisting you in this next stage of your journey.
God wants all of His people to participate in being ambassadors for His Kingdom. Together we can learn how to establish the authenticity of His Word through healing, miracles, signs, and wonders in the church first, and then throughout our communities.
Together we can establish generations of overcomers!
Would you like to meet more of our ACTS Global Pastors? 
Would you like to read more about ACTS Global? Here are some related articles:
To find more information about ACTS Global visit: www.actsglobal.com

Save this article and spread the Word!