Monica's Depression Testimony Isn't Just About How God Healed Her of Depression at Be in Health; She Also Learned Valuable Insights That Changed Her Life Forever.
The For My Life® Retreat at Be in Health has been amazingly successful in helping people not only overcome depression but to continue their lives without re-occurrence of depression. In fact, we have proven results from a formal clinical study conducted by a team of doctors a few years ago. Monica is just one of many people who have been healed and recovered from the heaviness of depression. She shared with us her inspiring depression testimony.
Monica's testimony
I battled depression on and off for over thirty years. I had times of growth with God, and then there were times that I really struggled with heaviness. It was like a roller coaster ride with lots of ups and downs.
At times I had suicidal thoughts. I sought help from a spiritual director and then a psychologist and I was put on medication for a while. But then God led me on a journey of healing and believing that I didn't need the medications, so I gradually weaned myself off of those. I felt good for a while, but then I still found myself back in periods of extreme heaviness. I would wake up every morning feeling like I didn't want to do the next day.
God began moving my heart
A couple of years ago, a friend told me about Dr. Henry W. Wright's book, A More Excellent Way. As time went on, it kept coming back up in different ways. Then she mentioned the Be in Health® YouTube channel. As I watched those videos on YouTube, and began to learn more about Be in Health, I felt God say to me, "You need to run to Georgia." And I said, "Run?" And He confirmed, "Yes, run!"
One of the spiritual leaders that I prayed with said, "I think that God's going to run to meet you there."
I learned insights that changed my life
The teachings at the For My Life® Retreat were so meaningful. I learned things that I had never heard before. One of the most impacting teachings for me was The Father's Love. Through that teaching, I came to realize just how much my heart was broken and how much I needed Father God to heal it. I learned how to walk in His love in a very personal way. I also came out of a lot of denial about how much hurt I'd been walking in for so long.
Through the For My Life teachings, I also recognized that I had a lot of self-rejection. I saw how I'd rejected myself and been bitter towards myself. I also saw how much I'd listened to self-condemnation and accusation. At the end of the week, before I left, I received prayer for healing. From that day forward, when I wake up in the morning, I don't have that heaviness anymore. I wake up and say, "Here's another day; I can do this." But I'm not striving in it; it's a work of God in me. That heaviness has never returned.
Be in Health is a safe place for you, too!
If you are thinking about attending the For My Life Retreat, I would say, "Run to Thomaston, Georgia. Don't be afraid."
If you are struggling with depression or anything else, there are people there who will love you and support you. There are things that you will learn there that will change the way you think.
I also want you to know that God loves you. He's for you and not against you. You belong on this Earth because He said so; that has nothing to do with your mom or your dad, your grandparents, or anybody else. God, your Creator, wants you here, and He says that you belong because He created you and put you here for this specific time and for His specific purpose. Just rest in His arms, and He will take care of the rest.
~Monica, PA
Find hope for your life today!
If you or someone you love is struggling with depression, we hope that Monica's testimony has encouraged you. There is hope in God for complete recovery from depression; it does not have to rule the rest of your life.
If you are ready to take the next step towards healing and freedom from depression, we are here to help. Don't hesitate to reach out and to discover what we have to offer that will benefit you.
Blessings,
The Be in Health Team
If you are ready to take the first step out of depression, here are some resources that will be helpful for you:
For My Life Retreat – Find healing in God for your spirit, soul, and body at this week-long intensive retreat. Learn Biblical insights that will change your life.
Exposing the Spiritual Roots of Disease – By Dr. Henry W. Wright
Overcoming Depression – By Dr. Henry W. Wright
Would you like to read more about this topic? Here are some related articles:
What Does the Bible Say About Depression?
How to Overcome Self Pity and Depression
Would you like to save this article for later? Pin it now!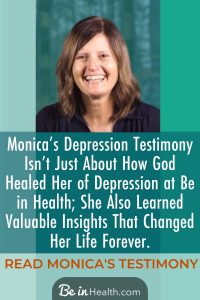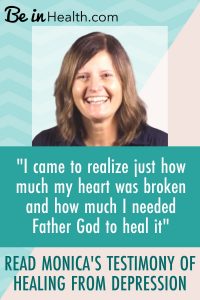 Don't forget to check out our resource page

"Overcoming Mental Illnesses.

" You'll find resources, teachings, information, and more to help you overcome every form of mental illness with God's help.