Most of us desire to live an abundant life in health, wholeness, peace, and prosperity. However, not many of us truly understand how to get to that point. Perhaps it's time to find answers to some of these more difficult questions: Why does the enemy still work in our lives as believers to steal, kill, and destroy? Why do we still struggle with diseases and sickness in our lives? What hinders us from walking in wholeness? And how did God intend for us to live life abundantly? Let's explore these questions and find real solutions from the Bible to obtaining abundant life in God.
The good shepherd wants to lead us to His blessings
The first thing we need to understand is God's heart of love and compassion for us. He is the good shepherd that wants to lead us into a rich and satisfying life of peace, health, and wholeness in Him. He has prepared a way for us that is sure and steadfast through His Word and the guidance of His Holy Spirit living in us as believers. However, it is still our choice whether we will seek and follow His ways that lead to abundant life or if we will continue in the old, familiar ways that have sabotaged the generations before us. It's these old, familiar ways that lead us into the enemy's camp where the thief is waiting to rob us of our God-ordained blessings.
The thief cometh not, but for to steal, and to kill, and to destroy: I am come that they might have life, and that they might have [it] more abundantly. John 10:10 KJV
This is a spiritual principle that is essential for every believer to understand so that we can be successful in our overcomer's journeys.
Leaving God's covering
The consequences of sin and death don't come because God is striking us for our disobedience. Rather, they come when we choose not to follow God and His ways or to pursue Him for direction and wisdom in one or more areas of our life. Therefore, we've left God's covering and we've chosen to walk into and abide in the enemy's camp. As a result, we receive his deviant form of "blessings," (which scripture defines as the "curse")– disease, loss, mental torment, and early death. The thief's purpose is to draw us away from the abundant life and blessings that God has prepared for us.
I call heaven and earth to record this day against you, [that] I have set before you life and death, blessing and cursing: therefore choose life, that both thou and thy seed may live. Deuteronomy 30:19 KJV
Why does God put such a hard line down between life and death? The Word is clear that to whomever we choose to obey, his servant we are. If we choose to walk in unforgiveness, resentment, bitterness, etc., whose ways are we following? Whose kingdom are we promoting? Are they God's ways or the enemy's?
Know ye not, that to whom ye yield yourselves servants to obey, his servants ye are to whom ye obey; whether of sin unto death, or of obedience unto righteousness? Romans 6:16 KJV
It's not you!
For most of us, it's not that we are intentionally following the enemy's ways. But there is something in us that makes his ways seem so familiar that it seems like our own thoughts. The enemy is right there to tell us all kinds of things about God, ourselves, and others that will lead us away from realizing and believing God's true ways and His love. These ways of thinking were likely very familiar to our ancestors before us as well.
For example, a person may worry continually and always expect and prepare for the worst-case scenario. This way of thinking may seem normal because their mother and grandmother were always worriers before them. However, this is actually a programmed way of thinking that originates from a spirit of fear that has trained the whole family to project evil into their future rather than trusting God with the outcome.
Laying the foundation of truth
This is why it is so important to get into the Word of God and to seek to know God and understand His heart and how He thinks. It's essential that we learn how to develop a relationship with our Heavenly Father which was made possible by the blood of Jesus Christ who was sacrificed for our sins. Through that relationship, we will find the safe environment we need to grow up in faith and love and wholeness in God.
Seeing then that we have a great high priest, that is passed into the heavens, Jesus the Son of God, let us hold fast [our] profession. For we have not an high priest which cannot be touched with the feeling of our infirmities; but was in all points tempted like as [we are, yet] without sin. Let us therefore come boldly unto the throne of grace, that we may obtain mercy, and find grace to help in time of need. Hebrews 4:14-16 KJV
We also need to have a firm foundation of truth in our hearts so that we can withstand the enemy when he comes to tempt us and to lead us astray.
Wherefore take unto you the whole armour of God, that ye may be able to withstand in the evil day, and having done all, to stand. Stand therefore, having your loins girt about with truth, and having on the breastplate of righteousness; And your feet shod with the preparation of the gospel of peace; Above all, taking the shield of faith, wherewith ye shall be able to quench all the fiery darts of the wicked. And take the helmet of salvation, and the sword of the Spirit, which is the word of God. Ephesians 6:13-18 KJV
Why does the enemy want to steal from us and overthrow us?
Ephesians tells us to put on the armor of God so that we can withstand the enemy. The armor isn't a dress suit to look good in; it's battle armor because we have a real enemy. Satan hates us; he wants to destroy us. Why? Firstly, it's in his nature. The Bible says that he's the thief that comes to steal, kill, and destroy. It also says that he is the father of lies and the accuser of the brethren.
Secondly, we are sons and daughters of God, and the enemy hates God. He knows the surest way to get at God is to destroy the people that He loves. Satan's right to be a son of God was taken from him when he fell and chose to rebel against God.
Utilize the gift of repentance and forgiveness
We also have something else that the enemy doesn't have. We have the ability to repent and to be forgiven for our sins because of the sacrifice that Jesus Christ made for us on the cross. And when we have done that, we have the ability to revenge all disobedience when our obedience is fulfilled. That means we can remove the works of the enemy in our lives and choose to be restored to walking in God's love and His ways.
For though we walk in the flesh, we do not war after the flesh: (For the weapons of our warfare [are] not carnal, but mighty through God to the pulling down of strong holds;) Casting down imaginations, and every high thing that exalteth itself against the knowledge of God, and bringing into captivity every thought to the obedience of Christ; And having in a readiness to revenge all disobedience, when your obedience is fulfilled. 2 Corinthians 10:3-6 KJV
Abundant life is all about your heart
This is not about our perfect performance, it is about a heart toward our Father to be like Him as we grow up. This is about us being the branches that are plugged into the vine as the source of every good thing. We can choose to be restored to the image that God created us in before the fall of Adam; God's own image in the Earth.
I am the vine, ye [are] the branches: He that abideth in me, and I in him, the same bringeth forth much fruit: for without me ye can do nothing. John 15:5 KJV
What is God's image?
The Word says it very simply:
And we have known and believed the love that God hath to us. God is love; and he that dwelleth in love dwelleth in God, and God in him. 1 John 4:16 KJV
If we are walking in God's image and in His ways, we need to learn how to be love like Him. That is why His greatest commandment is to love God, love yourself, and love others.
Jesus said unto him, Thou shalt love the Lord thy God with all thy heart, and with all thy soul, and with all thy mind. This is the first and great commandment. And the second [is] like unto it, Thou shalt love thy neighbour as thyself. On these two commandments hang all the law and the prophets. Matthew 22:37-40 KJV
Walking in Wholeness and living life abundantly requires abiding in God's love and understanding our identity.
Jesus says in the scripture that when we learn to love on all of these three levels (God, ourselves, and others), we are fulfilling the law in its entirety by default! It's so simple, yet so profound. In order to walk in wholeness in our spirit, soul, and body we need to be completed in God's love. The kingdom of sin cannot thrive where there is love. We don't need to fear the enemy or his kingdom; they should be afraid of us!
There is no fear in love; but perfect love casteth out fear: because fear hath torment. He that feareth is not made perfect in love.1 John 4: 18 KJV
The enemy knows that the moment we realize our identity as sons and daughters of God and begin to walk in the power of His love by the Holy Spirit, his kingdom is in big trouble. It doesn't matter how insignificant we think we are. The Bible says that it was the ignorant and unlearned men that turned the world upside down.
Now when they saw the boldness of Peter and John, and perceived that they were unlearned and ignorant men, they marvelled; and they took knowledge of them, that they had been with Jesus. Acts 4:13 KJV

And when they found them not, they drew Jason and certain brethren unto the rulers of the city, crying, These that have turned the world upside down are come hither also; Acts 17:6 KJV
Each and every one of us is valuable in the Kingdom of God. We cannot discount ourselves or others, no matter what things look like now. Jesus chose some fishermen and tax collectors to be His disciples. And look at the apostle Paul, do you think that when he was capturing Christians and consenting to their deaths that the believers of that time would have ever imagined him becoming one of them?
Exposing roadblocks to living life abundantly
We need to seek God's love with all of our hearts. We need to learn how to love Him, love ourselves, and love others no matter what. There cannot be any "ifs", "ands", or "buts". There is no limit to God's love, patience, and forgiveness towards us, therefore we need to develop that same attitude with the help of His Spirit.
When we find that we're unable to walk in love in any of these three areas, we can ask God to show us where the enemy has put a roadblock in our lives. We can fill our hearts up with the truth from the Word of God, and then we can renounce and remove the enemy and his lies.
A good way to discern whether or not a thought or way of thinking lines up with God's ways is to hold it up to 1 Corinthians 13:4-8 and the fruit of the Spirit in Galatians 5:22-23.
Charity suffereth long, [and] is kind; charity envieth not; charity vaunteth not itself, is not puffed up, Doth not behave itself unseemly, seeketh not her own, is not easily provoked, thinketh no evil; Rejoiceth not in iniquity, but rejoiceth in the truth; Beareth all things, believeth all things, hopeth all things, endureth all things. Charity never faileth: 1 Corinthians 13:4-8 KJV

But the fruit of the Spirit is love, joy, peace, longsuffering, gentleness, goodness, faith, Meekness, temperance: against such there is no law. Galatians 5:22-23 KJV
If our way of thinking, speaking, or acting seems contrary to this standard, we need to seek God for the correct way of thinking and handling the situation. His ways are far above our ways and they don't always make sense to us but we can be assured that His ways are just and perfect.
For my thoughts [are] not your thoughts, neither [are] your ways my ways, saith the LORD. 9 For [as] the heavens are higher than the earth, so are my ways higher than your ways, and my thoughts than your thoughts. Isaiah 55:8-9 KJV
Blessings to overcomers
In the letters to the churches in the book of Revelation, God says that the blessings will come to those who overcome. To be an overcomer we have to know what the battle is, receive the tools that God has given us to defeat the enemy in our lives, learn how to use them, and develop perseverance so that we don't fall back into it. It is a process of growing up into maturity through practice. We need to have patience with ourselves as we grow up into who God created us to be.
And beside this, giving all diligence, add to your faith virtue; and to virtue knowledge; And to knowledge temperance; and to temperance patience; and to patience godliness; And to godliness brotherly kindness; and to brotherly kindness charity. For if these things be in you, and abound, they make you that ye shall neither be barren nor unfruitful in the knowledge of our Lord Jesus Christ. 2 Peter 1:5-8 KJV
Our mission for your recovery
Over many years of application and experience, Be in Health has helped tens of thousands of people understand how to walk in wholeness and freedom in God. Be in Health's mission is not only to expose the possible spiritual roots of disease® but to restore God's children to walk in abundant life and wholeness in relationship with God, themselves, and others. Out of this revelation, people all over the world have been healed of every manner of disease. Why? Because they lined their heart up with God's ways and, as a result, their body lined up with God's original design. Are you ready to start living life abundantly as Jesus Christ intended for you? We'd love to join you on your overcomer's journey.
Blessings,
The Be in Health Team
This article is part 3 of a three-part series on the spiritual roots of disease. Click the following links to read the rest of the articles in this series:
1. Spiritual Roots of Disease – Have you ever wondered where disease comes from. Find answers from the Bible and real solutions for walking into health and wholeness in God.
2. Relationships Affect Your Health – Relationships are an important part of life but did you ever realize that they can affect your health. Learn how God wants to help you restore, establish, and strengthen relationships to help you walk in wholeness in every area of your life.
A More Excellent Way: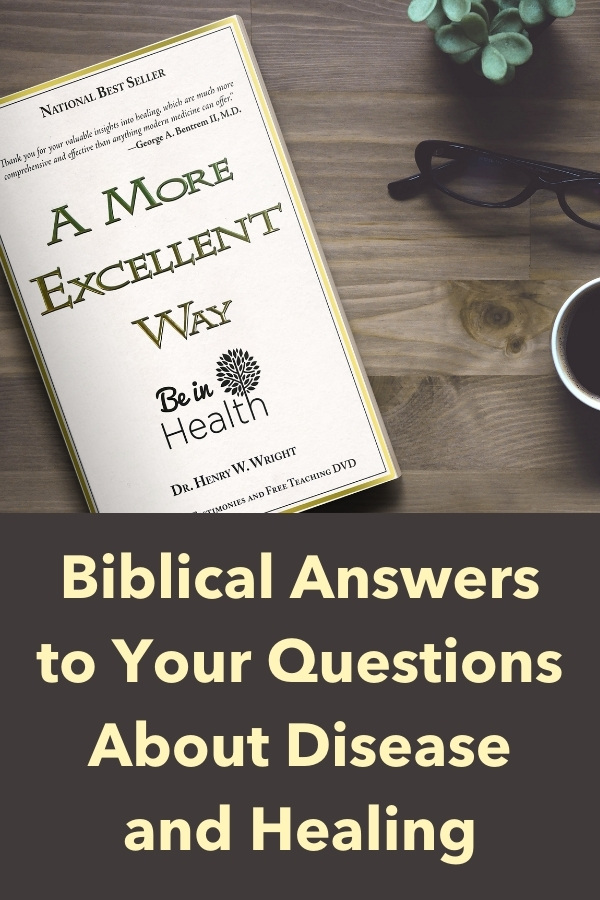 If you are new to our ministry, Dr. Henry W. Wright's book, A More Excellent Way, is a great place to start. It supplies profound knowledge about the secrets of healing and the prevention of disease. Using sound scripture and scientific observation, Dr. Henry Wright leads the reader on a journey of personal responsibility, identifying root causes to specific diseases and offering pathways of healing and wholeness that were never meant to remain dormant in the body of Christ. Here, you will understand why mankind has disease, identify specific blocks to healing, and discover spiritual pathways to health.
Resources and the For My Life Retreat :
Be in Health offers the For My Life Retreat in addition to reading materials and teachings.  The For My Life Retreat is a one-week intensive healing retreat where participants can come and receive the insights and instruction that they need in order to be recovered in their spirit, soul, and body. The fruits of this retreat have been profound; tens of thousands of people have experienced healing not only in their bodies and hearts but also in their relationships. The Be in Health Team is excited to come alongside you in your overcoming journey to discovering God's true heart and plans for your life and for your health.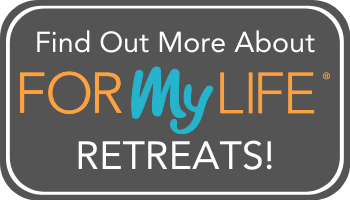 Share this article to spread the Word!