Real Solutions for Diabetes Type 1: No Meds Required!
Diabetes type 1 is an autoimmune disease in which the immune system targets and attacks the pancreatic islet cells. The medical community knows very little about why autoimmune diseases occur. They have developed various ways of managing the symptoms but cannot provide real, lasting solutions.  Over many years of studying the Bible along with significant medical research, God helped Dr. Henry W. Wright targeted the possible spiritual root causes of diseases. These profound insights have facilitated the healing and recovery of thousands of people as they learned how to replace those root issues with God's truth. There are some common spiritual roots between all autoimmune diseases, as well as a possible spiritual root cause of diabetes type 1 that is unique to this specific disease.
Overcoming an autoimmune disease requires healing in the heart of a person in these three areas, towards themselves and their own identity, in their relationship with God the Father, and forgiveness towards those who may have hurt them. Healing is a process of renewing the mind and repentance as a person allows God to join them on their overcomers' journey.
What is an autoimmune disease?
Because diabetes type 1 is an autoimmune disease, it's important to first understand what an autoimmune disease really is. All types of autoimmune diseases hold some possible spiritual roots in common.
Autoimmune means immunity against self. The problem occurs when the immune system targets the body's own healthy cells and repeatedly attacks them. This causes real, organic damage that can have various devastating effects on a person's health. The immune system responds to something invisible that causes it to deviate from its intended purpose and specifically target a particular part of the body. The immune system decides that body part is the enemy and tries to destroy it.
This isn't just happenstance; there is an intelligence driving this malfunction of God's creation. The spirit of infirmity is the source of this intelligence. In the New Testament, Jesus specifically addressed this spirit before healing certain people.
11 And, behold, there was a woman which had a spirit of infirmity eighteen years, and was bowed together, and could in no wise lift up [herself]. 12 And when Jesus saw her, he called [her to him], and said unto her, Woman, thou art loosed from thine infirmity. 13 And he laid [his] hands on her: and immediately she was made straight, and glorified God. Luke 13:11-13 KJV
Autoimmune diseases are an allergy to self.
Most people wouldn't associate an autoimmune disease with an allergy. But at the root, they both involve the same type of immune malfunction. In allergies, the immune system targets the antigen markers of not otherwise dangerous or harmful things to a person, such as dust, pollen, and foods. In autoimmune diseases, the immune system targets the antigen markers of a person's own cells.
The person with an autoimmune disease including diabetes type 1 is allergic to themselves! Their body is attacking itself because the person is attacking themselves and not accepting themselves and their identity in Christ. This includes self-rejection, self-accusation, self-hatred, and self-loathing, doubt, guilt, and shame. A person with an autoimmune disease has embraced the principles of death, giving it an open door to join them. That's why they need to recognize the spiritual reality that influences them and come out of agreement with that spirit of death.
19 I call heaven and earth to record this day against you, [that] I have set before you life and death, blessing and cursing: therefore choose life, that both thou and thy seed may live. Deuteronomy 30:19 KJV
What's the difference between Diabetes 1 and Diabetes 2?
Diabetes 1 is a true autoimmune disease because it involves a spirit of infirmity reprogramming the white corpuscles of the immune system to specifically attack the pancreatic islets. The pancreatic islets are responsible for producing and releasing insulin and other hormones that help the body maintain healthy blood glucose levels. When the white corpuscles attack the pancreatic islets, they can no longer produce those hormones, causing the blood glucose levels to rise significantly.
Diabetes type 2 differs in that it is not a biological disease but rather a disorder or malfunction of the pancreas. It is often caused by a fear, anxiety, or stress issue. The symptoms are heightened when the person is under excessive stress or pressure. (click here if you'd like to learn more about how to combat fear, anxiety, and stress.)
What is the possible spiritual root cause of Diabetes 1?
The door point for diabetes 1 usually occurs in childhood. Dr. Henry W. Wright observed that there was an issue of rejection or abuse by a father in all of the cases of type 1 diabetes that he encountered. It's possible that one or both of their parents could not or just did not know how to represent God's love to them. They themselves were probably never properly loved, nor their parents before them.
The possible spiritual root cause of diabetes 1 may involve a person who has grown up wondering why they are not loveable or acceptable. They may feel like they do not belong or fit in. Often they don't see their purpose or value. This person may reject themselves because they feel rejected by others. As a result, they open themselves up to a spirit of infirmity.
In the case of a small child diagnosed with diabetes 1, the spiritual issues are possibly inherited. These  spirits may tracked with the members of a person's family for generations.
7 Keeping mercy for thousands, forgiving iniquity and transgression and sin, and that will by no means clear [the guilty]; visiting the iniquity of the fathers upon the children, and upon the children's children, unto the third and to the fourth [generation]. Exodus 34:7 KJV
A testimony of recognizing the possible spiritual root cause of Diabetes 1 and finding healing in God
I've been an insulin-dependent diabetic for many years. During that time, I had asked for prayer from three different ministries for diabetes. Three times the spirit manifested and left. Three times it came back. That became my question to God – why does this spirit have the right to be here? … After hearing what Dr. Henry W. Wright had to say about the spiritual roots of disease®, I knew what had been missing…The kingdom of self-hatred, self-rejection, and guilt had been an active part of me my whole life without me even knowing it or recognizing what it was…
Education is the basis for continued success for those who spend time at Be in Health. Along with the actual ministry, education completes the process to make it possible to maintain freedom. It works. The results are phenomenal and lasting!
Diabetes will never again have its chance to ravage my body…It is gone… an incurable disease defeated and sent on its way packing… When anyone asks me how my diabetes is, I just say, "I do not know; I left it in Georgia!" I'm down 20 pounds now, since I stopped my insulin. (Read J.F. Carson's whole testimony on Pg. 483 of Dr. Henry W. Wright's book, A More Excellent Way.)
Recovering your identity helps defeat the spiritual root cause of diabetes 1
There is a greater benefit in you being changed into His image than for Him to heal you. Why? Because He knows that if you are sanctified and changing into His image, you won't get the diseases coming your way. And the ones you have will lose their power over you.
If you are struggling with autoimmune disorders, your body is attacking your body because you struggle with your identity and not accepting yourself. This leaves you acting like an orphan. You have to embrace the fact that you're wanted; you're not an accident. No matter what your mother or father said to you, even if you were put up for adoption or orphaned, if you are born again you're not an orphan anymore!
When you became born again, you became a legitimate son or daughter of God. Jesus came so that He could restore you to your relationship with Father God. It is written, "We have not been given the spirit of bondage again to fear, but the spirit of adoption whereby we can cry, Abba, Father!" (Romans 8:15 KJV)
Here is your prescription for overcoming the possible spiritual root cause of diabetes 1:
Psalm 139. Read this over and over; you will find yourself in it and begin to understand how God thinks about you. Before you were conceived in your mother's womb, your loving Heavenly Father knew you. And in your generation, He sent His Spirit to get you and call you into His family. You responded, now why would you doubt it? If God is for you, who can be against you?
31 What shall we then say to these things? If God [be] for us, who [can be] against us? Romans 8:31 KJV
Why would you argue with your maker? If you disagree with God, you are in self-idolatry because you are saying you know more than God; you've become your own counselor. God cares about you, He loves you, and He accepts you. Will you choose to believe that for your heart today?
(If you'd like to learn more about your identity in Christ, we recommend this teaching by Dr. Henry W. Wright, Who am I? )
Growing in your relationship with God the Father
To grow in confidence in your identity, your relationship with Father God needs to be healed and established first. The Father knows your thoughts; He knows your fears. He knows the areas that you struggle with; He's not ignorant. God is not mad at you! He's your Father. He's not like your earthly father. You're not bothering Him. He's expecting the conversation.
7 Casting all your care upon him; for he careth for you. 1 Peter 5:7 KJV
6 Be careful for nothing; but in every thing by prayer and supplication with thanksgiving let your requests be made known unto God. Philippians 4:6 KJV
It's good to be sons and daughters of the living Father. God has good plans and blessings prepared for you if you will agree with Him about yourself. We need to believe it and accept it!
We are the children of creation. We are the children of the resurrection. We are the children of faith! Accept your sonship; accept your daughtership!
Forgiveness is the last key to healing from an autoimmune disease.
Don't discount this last step; it is of critical importance. Dr. Wright identified unforgiveness as the number one block to healing, so it's essential to remove that block before moving forward in your healing process. You have a battleground, and it includes the difficulties and hurts you've faced. It's time to lay that all down before the Father and release it to Him.
13 Brethren, I count not myself to have apprehended: but [this] one thing [I do], forgetting those things which are behind, and reaching forth unto those things which are before, 14 I press toward the mark for the prize of the high calling of God in Christ Jesus. Philippians 3:13-14 KJV
God wants you to forgive those in your families who didn't know how to love or accept you properly. Why should you have a disease because of their shortcomings? Why would you hold their sin in your body? Jesus set the perfect example of forgiveness when He hung, dying on the cross. He said of His murderers, "Father, forgive them, for they know not what they do!" (Luke 23:34 KJV)
God says that He forgives us as we forgive others. If we want to receive His forgiveness, we need to be willing to forgive those who have hurt us or offended us.
25 And when ye stand praying, forgive, if ye have ought against any: that your Father also which is in heaven may forgive you your trespasses. 26 But if ye do not forgive, neither will your Father which is in heaven forgive your trespasses. Mark 11:25-26 KJV
The sinister strategy of Unforgiveness and Bitterness
Unforgiveness and bitterness are not just negative emotions; they are real, evil spirits that influence your thoughts. Their main objective is to separate you from love with God, yourself, and others. Are you going to let them do that? Not today!
15 Looking diligently lest any man fail of the grace of God; lest any root of bitterness springing up trouble [you], and thereby many be defiled. Hebrews 12:15 KJV
(If you would like to learn more about how to forgive, click here!)
It's time to renew your mind.
Our body reacts to our minds when our minds are not stayed on the Lord. It's essential to practice taking every thought captive and casting down any imaginations that do not line up with how God thinks and His nature.
5 Casting down imaginations, and every high thing that exalteth itself against the knowledge of God, and bringing into captivity every thought to the obedience of Christ. 2 Corinthians 10:5 KJV
You're called to have the mind of Christ. How do you get the mind of Christ? By getting into His Word. Read the Bible with the intent  to know God's heart, how He thinks, speaks, and acts. Ask the Holy Spirit to join you and lead you through it to bring you understanding and revelation.
26 That he might sanctify and cleanse it with the washing of water by the word. Ephesians 5:26 KJV
22 That ye put off concerning the former conversation the old man, which is corrupt according to the deceitful lusts; 23 And be renewed in the spirit of your mind; 24 And that ye put on the new man, which after God is created in righteousness and true holiness. Ephesians 4:22-24 KJV
The power of repentance to defeat the spiritual root cause of diabetes 1
As you get into the Word of God and His Holy Spirit begins to shine a light on the dark places of your life, it will feel uncomfortable. But don't withdraw! It's the enemy that is uncomfortable because his works are being exposed. When you recognize a sin issue in your life, simply repent to God. Ask for His forgiveness and receive His forgiveness. Honestly and vulnerability before God is the only way to truly walk out of darkness and into wholeness.
9 If we confess our sins, he is faithful and just to forgive us [our] sins, and to cleanse us from all unrighteousness. 1 John 1:9 KJV
Cancel the generational iniquity that contributes to the spiritual root cause of diabetes 1.
We can also confess the iniquities of our fathers to God and ask Him to break the generational curse from our lives. Those things that have tormented your family members for generations don't have to continue! Psalm 103 says that God forgives all of our iniquities, and as an added benefit, He heals all of our diseases!
2 Bless the LORD, O my soul, and forget not all his benefits: 3 Who forgiveth all thine iniquities; who healeth all thy diseases; 4 Who redeemeth thy life from destruction; who crowneth thee with lovingkindness and tender mercies; 5 Who satisfieth thy mouth with good [things; so that] thy youth is renewed like the eagle's. Psalm 103:2-5 KJV
(If you'd like to learn more about the steps to overcoming, click here!)
God wants to heal you! You can defeat the possible spiritual root causes of diabetes 1!
God designed your body to serve you, not attack you! As you learn how to receive God's love and accept and love yourself, your immune system will stop attacking and destroying your pancreatic islets. And God, who is the God of miracles, will restore your pancreas. He created your pancreas, and He knows how to heal it like it was never diseased. Believe that. If you think, "Well, I'll believe it when I see it," that is not faith. You have to choose to believe that God is able to and wants to heal you, no question about it.
What a wonderful blessing that God clearly instructed us in the Word; we can overcome the wiles of the enemy so that the wiles woun't overcome us. We can be more than conquerors! We are overcomers!
10 Finally, my brethren, be strong in the Lord, and in the power of his might. 11 Put on the whole armour of God, that ye may be able to stand against the wiles of the devil. Ephesians 6:10-11 KJV
Being an overcomer is not a one-time event; it's something that we continually grow in. In fact, at Be in Health®, we call it the overcomers' journey! It's a lifelong journey of walking with God and seeking His face so that He can help us overcome every obstacle that crosses our path. You are not alone! God is faithful, and He wants to heal you. Will you begin your overcomer journey today?
Blessings,
The Be in Health Team
This article is based on this teaching by Dr. Henry W. Wright: "Autoimmune Diseases, Are You Allergic to Yourself." This CD includes powerful prayers for repentance and healing.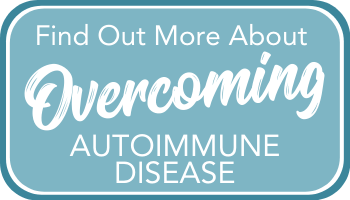 Save this article for later, pin it now!