Kim Overcame Multiple Chemical Sensitivity/ Environmental Illness and More!
Many people come to the For My Life® Retreat at Be in Health® as a last resort. They have tried everything that traditional and alternative medicine has to offer to no avail. As a result, they find themselves feeling hopeless and defeated. This was the case for Kim. In fact, she went to visit her son so that she could say goodbye to him because she was dying. Through learning and applying the Biblical truth that she learned at Be in Health®, Kim overcame Multiple Chemical Sensitivity and more! Here's her testimony:
Kim's Journey
Kim was diagnosed with MCS/EI, Fibromyalgia, chronic fatigue and she also had extremely low blood pressure. A nurse came to her house regularly to attend to her. She had to have IVs three times a week. Her diet consisted of only three remaining foods, and she was isolated in her home.
When Kim first came to the For My Life® Retreat, she weighed only 81 pounds. As she sat in the teachings and received the Biblical truth that was presented by the teachers, she began to understand why she was sick and her healing began and progressed through the week. She says, "The knowledge was amazing!"
Kim Overcame Multiple Chemical Sensitivity and all of her other diseases!
Since her time at Be in Health®, Kim has gained fifty pounds and can eat and travel again. She has been set completely free, no more isolation, and no more bondage to sickness and disease!
"I have a second chance because of For My Life®. I am very grateful!" She declares.
All the glory goes to God because she knows without a shadow of a doubt that God healed her through the truth that she received at Be in Health®.
This isn't just Kim's story
Be in Health® does not have to be a last resort. Kim is one of tens of thousands of people whose lives have been changed through God's truth that was presented at Be in Health®. God wants to see all of His sons and daughters completely healed and recovered. The Word says that it is not His will that any should perish.
The Lord is not slack concerning his promise, as some men count slackness; but is longsuffering to us-ward, not willing that any should perish, but that all should come to repentance. 2 Peter 3:9 KJV
It also says that His will is that we all prosper and be in health.
Beloved, I wish above all things that thou mayest prosper and be in health, even as thy soul prospereth. 3 John 1:2 KJV
At Be in Health®, we have found great success in ministering to people with Multiple Chemical Sensitivity and Environmental Illness (MCS/EI). We've seen many completely healed and restored and they now live functional normal lives. They no longer have to avoid food or environmental factors. But most importantly, they have received healing in their hearts as they received the love that Father God has for them.
God's desire for you.
God is calling each one of us to line our hearts up with His will and His ways. He wants us to seek Him with our whole hearts so that we can walk in relationship with Him. Then we can experience the fullness of life and health that He has prepared for us.
Our Heavenly Father will come alongside us by His Spirit. He will teach us and lead us into our recovery and then He will bless us as a result of the work He did in us. We don't have to strive or perform for Him. He only asks us to submit and trust and open our hearts to receive the completeness of His truth so that we may apply it in wisdom to our lives.
What is For My Life?
The For My Life® Retreat at Be in Health® is an excellent place to start. We teach about the foundational insights into God's ways, Father God's love, Our identity in Him, the spiritual roots to disease, blocks to healing, and how to overcome them. The insights that are presented from the Word are keys to complete restoration in a person's spirit, soul and body. The byproducts of restoration and healing in a person's heart are physical healing in their bodies and restoration in their relationships.
God is no respecter of persons; what he has done for Kim and so many others through the ministry at Be in Health®, He can surely do for you as well! He truly is the source of all life and He loves us so incredibly and unconditionally.
Blessings!
The Be in Health® Team
Do you want to learn more about how you can overcome MCS/EI?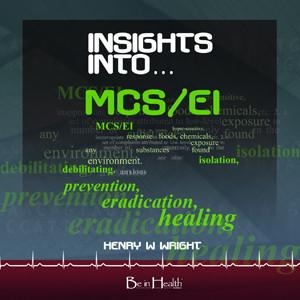 Dr. Henry Wright's Teaching, Insights into MCS/EI, is an excellent resource to help you understand more about what MCS/EI is, how it works biologically and physiologically, what the spiritual root issues are that cause it, and how to overcome it from a Biblical perspective. This teaching could change your life and bring much needed answers as well as real solutions. Check it out here! 
A More Excellent Way:
If you are new to our ministry, Dr. Henry W. Wright's book, A More Excellent Way is a great place to start. It supplies profound knowledge about the secrets of healing and the prevention of disease. Using sound scripture and scientific observation, Dr. Henry Wright leads the reader on a journey of personal responsibility, identifying root causes to specific diseases and offering pathways of healing and wholeness that were never meant to remain dormant in the body of Christ. Here, you will understand why mankind has disease, identify specific blocks to healing, and discover spiritual pathways to health.
Resources and For My Life:
In addition to reading materials and teachings, Be in Health® offers the For My Life® Retreat. This is a one-week getaway where participants can come and receive the insights and instruction that they need in order to be recovered in their spirit, soul, and body. The fruits of this retreat have been profound; tens of thousands of people have experienced healing not only in their bodies and hearts but also in their relationships. Our team members are excited to come alongside you in this overcoming journey to discovering God's true heart and plans for your life and for your health.