God Healed Tara's Son!
A mother's worst nightmare
One of the hardest things that any mother could endure is to see their child suffer. It may drive them to reach out in desperation to anything that they can find in order to provide some sort of relief for that struggling child. This was the case for Tara and her three-year-old son. She shared her testimony with us about how God healed her son:
Tara's testimony:
Tara's son was afflicted with eczema, food allergies, oppositional defiant disorder, failure to thrive, and delayed growth. It became so bad that she was on the brink of quitting her job so that she could stay home with him to care for his needs.
Nowhere else to turn
Throughout their struggles, Tara exhausted all her options for treatment and relief for her son. He had been hospitalized, they had seen specialists, different doctors, and herbalists. They'd also tried all sorts of creams, ointments, homeopathic remedies, and medication, to no avail.
Then they found Be in Health®
Then Tara came across Be In Health® and came to Thomaston, GA, to attend our For My Life® Retreat. There was so much information for her to take in and process but things were starting to make sense to her at last! When she got home from the retreat, she began to apply what she had learned and to walk it out. 
The recovery process
Her son's recovery was a process. Tara patiently worked through each issue in her life that God brought to her attention. Over time, and with the assistance of a few Spiritual Lifeline® calls, she saw steady improvement in her son until he was completely healed!
God healed her son
Today their life is totally different, Tara's son is healthy and thriving and doing well in school. He has gained weight and is back on the growth charts. He no longer has eczema or food allergies and will eat pretty much anything.
The doctors have no medical explanation for her son's recovery. Tara knows, without a doubt, that God healed her son.
Learn to truly thrive
Our objective at Be in Health® is not just for people to get healed but that they may learn to truly thrive and live in sustained health. We understand the pathways of disease and generational iniquity. We want to equip the believer with this understanding so that they too can overcome the root issues that cause the diseases in themselves and their children.
Reclaiming lives and families
Tara's is just one of many testimonies of parents who reclaimed their own lives and families from the stronghold of iniquity that was tracking with them. That is the wonder of the gift of reconciliation that Jesus gave us on the cross. He gave us the power to defeat the works of the enemy in our lives and to walk in freedom. Through the power of the Holy Spirit in us, we have authority over the enemy so that he cannot stand against us. But it is essential that we walk according to wisdom and knowledge, in relationship with our Heavenly Father, so that we can continue to walk in victory over the enemy and his camp.
The thief cometh not, but for to steal, and to kill, and to destroy: I am come that they might have life, and that they might have it more abundantly. John 10:10 KJV
We want to see all of God's people returned to His plan for abundant life. In this they can thrive in wholeness in their spirit, soul, and body and also in their relationship with God, themselves, and others.
Blessings,
The Be in Health® Team
FREE Printable scripture art download! Enter your information below and you will receive it in your inbox shortly.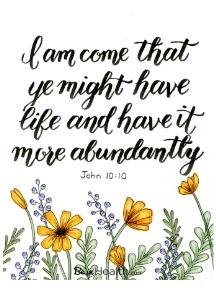 [email-download download_id="13359″]
A More Excellent Way
:
If you are new to our ministry, Dr. Henry W. Wright's book, A More Excellent Way, is a great place to start. It supplies profound knowledge about the secrets of healing and the prevention of disease. Using sound scripture and scientific observation, Dr. Henry Wright leads the reader on a journey of personal responsibility, identifying root causes to specific diseases and offering pathways of healing and wholeness that were never meant to remain dormant in the body of Christ. Here, you will understand why mankind has disease, identify specific blocks to healing, and discover spiritual pathways to health.
Resources and For My Life®:
Be in Health® offers the For My Life® Retreat in addition to reading materials and teachings.  The For My Life Retreat® is a one-week getaway where participants can come and receive the insights and instruction that they need in order to be recovered in their spirit, soul, and body. The fruits of this retreat have been profound; tens of thousands of people have experienced healing not only in their bodies and hearts but also in their relationships. Our team members are excited to come alongside you in your overcoming journey to discovering God's true heart and plans for your life and for your health.