How to Connect With God
Father God is a good Father; He's the best there is! It is amazing to realize that the God of the universe wants to meet us in our humanness and call Himself our Father, and He calls Jesus our Lord, the firstborn of many brethren (making Him our brother and friend). Father God desires a relationship with us! He wants to make himself personal and available to each one of us. However, many of us struggle to connect with Him, and we don't fully understand the significance of praying to God the Father. The Bible tells us that our relationship with the first member of the Godhead is vital to our walk and success as believers. Although we may think we can figure the intricacies of life out on our own, we will only truly thrive as overcomers with His help and guidance.
Why is our relationship with God the Father important?
Father God's awesome love for us is expressed in this familiar passage:
For God so loved the world, that he gave his only begotten Son, that whosoever believeth in him should not perish, but have everlasting life. John 3:16 KJV
Our Heavenly Father took the extraordinary measure to send His own Son to bridge the gap so that we could have a relationship and fellowship with Him. Jesus Himself said that He came to show us the Father. Everything that He did while He was on Earth was intended to represent the Father's heart to us.
While Jesus was here, He prayed to God the Father regularly to help him through every obstacle He faced. Even the Lord's Prayer, Jesus' most famous example of how to pray, directed us directly to God the Father:
After this manner therefore pray ye: Our Father which art in heaven, Hallowed be thy name. 10 Thy kingdom come. Thy will be done in earth, as [it is] in heaven. 11 Give us this day our daily bread. 12 And forgive us our debts, as we forgive our debtors. 13 And lead us not into temptation, but deliver us from evil: For thine is the kingdom, and the power, and the glory, for ever. Amen. Matthew 6:9-13 KJV
What does it mean to have a relationship with Father God?
To understand our relationship with Father God, we need to realize who we are to Him. Did you know that when we became born again, we became sons and daughters of God? That is who you are, not an outcast, not abandoned or forsaken, not a worm. Each one of us is a beloved child!
But as many as received him, to them gave he power to become the sons of God, [even] to them that believe on his name: Which were born, not of blood, nor of the will of the flesh, nor of the will of man, but of God. John 1:12-13 KJV
What is prayer?
Father God has not left us alone or without help. He's made a provision through His Holy Spirit to open a line of communication with us called prayer. For any relationship to be successful there has to be adequate communication from both parties. We can communicate with Him through prayer and receive His response by the Holy Spirit speaking to our spirit and through the Word of God.
Praying to God the Father by faith
Prayer is often shrouded in mysticism or religious jargon. As a result, it's sometimes difficult to understand what prayer is and its true purpose. Prayer is by faith, talking to our Father, and believing that He hears us when we speak to Him.
When you pray and believe in your heart that He hears you, He will hear you. But if you pray and do not believe in your heart that He hears you, He will not hear you. Without faith, it is impossible to please God.
But without faith [it is] impossible to please [him]: for he that cometh to God must believe that he is, and [that] he is a rewarder of them that diligently seek him. Hebrews 11:6 KJV
Overcoming ungodly fear of God
There is such a thing as an ungodly fear of God where we feel unworthy of being in His presence. That is a lie from the enemy. The Word says that we are to come boldly to the throne of grace. Our Father in Heaven has already made provision for us to be able to come to Him any time for any reason through His Son, Jesus Christ.
Seeing then that we have a great high priest, that is passed into the heavens, Jesus the Son of God, let us hold fast [our] profession. For we have not an high priest which cannot be touched with the feeling of our infirmities; but was in all points tempted like as [we are, yet] without sin. Let us therefore come boldly unto the throne of grace, that we may obtain mercy, and find grace to help in time of need. Hebrews 4:14-16 KJV
Why do we pray to God?
Did you know that even though He knows our thoughts, Father God still wants to have open communication with us? Father God wants you to express everything in your heart to Him. That's what helps us develop a relationship with Him. Many times we have not because we ask not. We think that because we thought something or because God knows our needs before we say them, there is no need to ask. But the Word says that we are to make our requests known. He still wants us to speak it.
Be careful for nothing; but in every thing by prayer and supplication with thanksgiving let your requests be made known unto God. Philippians 4:6 KJV
He wants to help us. He wants to hear even the small things. He wants us to bring every little care and concern to Him so that He can help us deal with them.
Casting all your care upon him; for he careth for you. 1 Peter 5:7 KJV
Many times we have no idea how important we are to Him. The Word even says that every hair on our head is numbered. That is how intricately He knows us. Who else would care, or even be able to know how many hairs we have other than our Heavenly Father? Nothing is too trivial to Him.
As a good Father, God wants to give us good things.
Or what man is there of you, whom if his son ask bread, will he give him a stone? Or if he ask a fish, will he give him a serpent? If ye then, being evil, know how to give good gifts unto your children, how much more shall your Father which is in heaven give good things to them that ask him? Matthew 7:9-11 KJV
There can, however, be a great disconnect in our demand for answers. God is omniscient– meaning He is all-knowing. He knows better than us what is good for us and what is not. He knows what will lead us off track and what will be beneficial to us. He also knows the end from the beginning. He knows the right time and season to answer our prayers, and it might not be in the timing that we choose. We must be careful not to have a fast-food mentality with God. There is no limit to His patience. As His children, that is a quality that is beneficial and important for us to learn too.
How to pray effectively
God treasures our spirit above all else and, if we allow Him to, He will grow us and mature us into His masterpiece. We might ask for something but may not have the maturity or strength yet to be able to receive it. So there could be a season that He needs to work with us and prepare us to be able to operate in it. In that season of waiting, we should still hold fast to our faith.
It is also possible to ask amiss, meaning that we ask for something to fulfill our own affections or lusts that are not good for us. Sometimes, there are conditions to receiving:
And whatsoever we ask, we receive of him, because we keep his commandments, and do those things that are pleasing in his sight. And this is his commandment, That we should believe on the name of his Son Jesus Christ, and love one another, as he gave us commandment. 1 John 3:22-23 KJV
To receive from God, we need to line our hearts up with Him and His will. He wants us to ask Him continually to show us everything from His perspective. We can also ask Him to help us build a desire to love like He loves and care about the things that He cares about.
God enjoys blessing us!
At the same time, there is an area that He bends in His sovereignty. He enjoys giving us the desires of our hearts. There may be things that we desire that are natural; that are just us. He wants to give us the desires of our hearts, but He also knows what's good for us.
Delight thyself also in the LORD; and he shall give thee the desires of thine heart. Psalm 37:4 KJV
When we seek Father God's heart, and desire to know Him more personally, He will not withdraw from us. He is a faithful, loving Father. We do ourselves a great disservice when we project onto Him the failures of our earthly Fathers and/or other humans. All humans are subject to iniquity, but God is and has always been perfect love. He is not capable of being anything other than that. He is faithful and longsuffering towards us. He will never fail us. He desires to bring us into the fullness of life, health, peace, love, and joy. What a marvelous inheritance!
Behold, what manner of love the Father hath bestowed upon us, that we should be called the sons of God… 1 John 3:1 KJV
God wants to draw you closer to Himself today
Perhaps you have connected with some of the blocks to a relationship with Father God in this article. We challenge you, don't let any more time go by before you confront these things in your life. Come boldly before the throne of grace and allow Father God to do a work on your heart. Make it a practice to talk regularly with Him about whatever is on your mind; you will be amazed at the benefits of clarity and peace you receive. You may also discover that the closer you get to God in a loving, safe relationship, the more His blessings will flow and overflow in your life.
Blessings,
The Be in Health® Team
FREE Printable Scripture Art: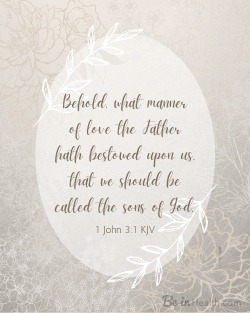 Please enter your information below to receive this FREE Printable Download in your inbox and subscribe to our weekly newsletter!
[email-download download_id="18481″]
Hope Highlight: The Father Catches Me
Would you like to read more articles related to this topic?
Pin this article now to save it for later and help us share it with others!