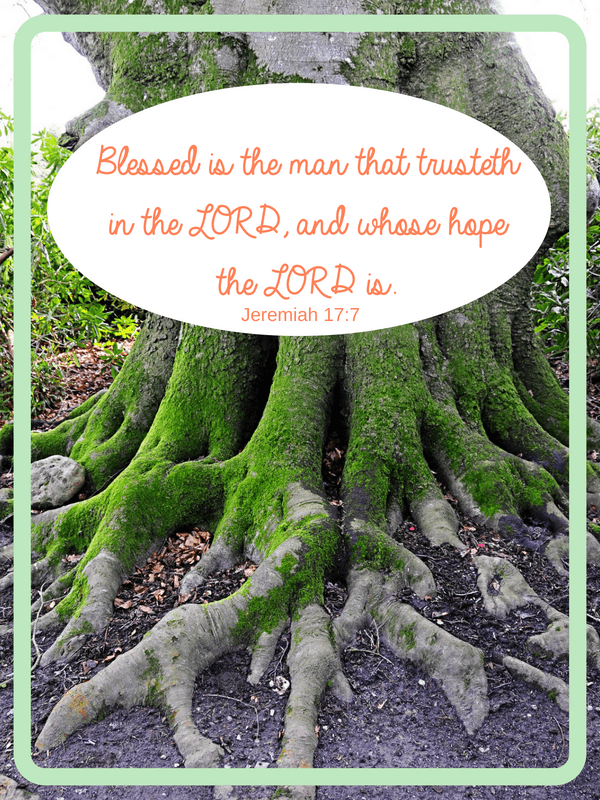 (A 5 Minute Read)
Blessed is the man that trusteth in the LORD, and whose hope the LORD is. For he shall be as a tree planted by the waters, and that spreadeth out her roots by the river, and shall not see when heat cometh, but her leaf shall be green; and shall not be careful in the year of drought, neither shall cease from yielding fruit. Jeremiah 17:7-8 KJV
Where is your hope? Often times we are misled to put our hope in the object of our desire, like a new car or house, more money, restored relationships and health or even changed circumstances. Though it's God's desire to give us good things, if the object of our desire is on something other than God Himself, we may find ourselves in a snare of the enemy.
Here's what the Word says:
But seek ye first the kingdom of God, and his righteousness; and all these things shall be added unto you. Matthew 6:33 KJV
Our Father is asking us to seek Him first and the things of His Kingdom. He wants us to put our hope and trust in Him. We don't need to get fixated on the things we need or want, the Word says that He already knows those.
Therefore take no thought, saying, What shall we eat? or, What shall we drink? or, Wherewithal shall we be clothed? (For after all these things do the Gentiles seek:) for your heavenly Father knoweth that ye have need of all these things. Matthew 6:31-32 KJV
It also says that every good and perfect gift comes from our Father.
Every good gift and every perfect gift is from above, and cometh down from the Father of lights, with whom is no variableness, neither shadow of turning. James 1:17 KJV
So when a need or a desire arises, there is no shame in bringing it before our Father but then we must be willing to lay it down and trust that He will handle it in His perfect way and in His perfect timing.
How do we know if we have a right spirit in these things? If we are willing to receive the answer, even if it's "No" or "Wait" because we know that our Father knows all things. He sees the big picture and He truly knows what is best for us.
Once we are able to lay it down and trust Him with it, we need to move forward in our walk. We can't let ourselves get hung up on it. So now what?
Now it's time to seek first the Kingdom of God and His righteousness. Move forward into relationship, into walking in His ways and seeking His will and His Kingdom to come here on earth.
Many of the things that we hope for or desire, though they may be important, really are just temporal. They will pass away with this world. But there is something that we already possess that is eternal and of far greater value, that is our spirit. Our spirit is the only thing we are going to take with us into eternity. Our bodies aren't going, our house can't come, God's got the food and clothing covered so we don't need that either. That car, no matter how spiffy it is, isn't going to get you any closer either.
So rather than putting our hope and faith in things, circumstances or people, we are putting our hope and faith into God's promises and His Kingdom to come.
The amazing thing about God's ways is that they always come with a benefit. The Word says that when we trust Him, He will provide for us. When we delight in Him, He will give us the desires of our heart.
Trust in the LORD, and do good; so shalt thou dwell in the land, and verily thou shalt be fed. 4 Delight thyself also in the LORD; and he shall give thee the desires of thine heart. 5 Commit thy way unto the LORD; trust also in him; and he shall bring [it] to pass. 6 And he shall bring forth thy righteousness as the light, and thy judgment as the noonday. 7 Rest in the LORD, and wait patiently for him: fret not thyself because of him who prospereth in his way, because of the man who bringeth wicked devices to pass. 8 Cease from anger, and forsake wrath: fret not thyself in any wise to do evil. 9 For evildoers shall be cut off: but those that wait upon the LORD, they shall inherit the earth. Psalm 37:3-9 KJV
This is another one of those perspective changes. It's time that we look outside of ourselves and our own little world and get the bigger picture. When we line ourselves up with God's vision for our lives and for the world, we will see the reward and the provision naturally fall into place. The Word says that He knows the end from the beginning. He knows every need we have, every struggle, every thought. He already has a plan in place for our provision and deliverance. Sometimes we won't hold still long enough to let Him do His thing and show us His salvation. Sometimes we are so motivated by providing for our own needs that we might miss Him entirely.
The scripture warns us about this snare in the parable of the sower and the seeds:
And that (the seeds) which fell among thorns are they, which, when they have heard, go forth, and are choked with cares and riches and pleasures of this life, and bring no fruit to perfection. Luke 8:14 KJV
We are called to be ambassadors for our Father in Jesus' name. How can we be ambassadors if our hearts and minds don't line up with His will and His ways? Perhaps it's time to reorganize our priorities and put His Kingdom, His love and the health of our spirit back up there on the list. It's time that we seek His heart, seek His Kingdom and if we don't know what that means, that we be diligent to find out.
 It is the glory of God to conceal a thing: but the honour of kings is to search out a matter. Proverbs 25:2 KJV
This all requires being rooted and grounded in our true identity. If you have been born again, you are a child of God. You're His kid! Friends, that makes you royalty! You're pretty important to Him. In fact, you are all that He has in this world to represent Him and to do the works of His Kingdom, now and also in eternity!
The enemy is so eager to get us all snared up in the cares of this world and in temporal things. The last thing that He wants is for God's kids to realize that they are God's kids and the power that they have over the enemy and his kingdom. Let's not fall for that anymore. Here's what the Word says the "reward" is if we follow this lie:
Thus saith the LORD; Cursed be the man that trusteth in man, and maketh flesh his arm, and whose heart departeth from the LORD. For he shall be like the heath in the desert, and shall not see when good cometh; but shall inhabit the parched places in the wilderness, in a salt land and not inhabited. Jeremiah 17:5-6 KJV
Can some of you recognize this dynamic in your own lives? Do you feel dried up and desolate? Friend, there is hope for you too. All God is looking for is a person who has a heart toward Him. He will honor that and help pull you out of that pit. He is ever faithful to deliver us when we repent and turn our hearts back to Him. The Word says that He is longsuffering and plenteous in mercy. He's seen your suffering and He's suffered with you in it with compassion towards you. But He's also made a way of escape and He can restore your life and your hope again if you will place it back in His hands.
This is what He says to you:
For I know the thoughts that I think toward you, saith the LORD, thoughts of peace, and not of evil, to give you an expected end. Jeremiah 29:11 KJV
It's time to rise up Brothers and Sisters! It's time to seek out the unique place that God has prepared for you in His Kingdom both here on Earth and in His Kingdom to come. It's time to get eternal and to allow the Holy Spirit to do His thing in our spirit and to bring forth the good and healthy fruit in our life. When we do, the Word says that God's blessings will overtake us; we won't even be able to stop them from happening. What an amazing God we serve!
And all these blessings shall come on thee, and overtake thee, if thou shalt hearken unto the voice of the LORD thy God. Deuteronomy 28:2 KJV
Blessings,
The Be in Health Team