Did you know that you can overcome the possible spiritual root cause of cardiovascular disease?
Did you know that there are heart malfunctions that are classified as heart disease but are not a disease at all? They are syndromes – the heart malfunctions although there is no organic problem behind it. Medical research shows that many of these diseases including angina, atrial fibrillation, mitral valve prolapse, some forms of high blood pressure, hypertension, arrhythmic heart problems, and more, are fear, anxiety, and stress-related.
In the Bible, God offers insights into what fear is and how to overcome it. In fact, the Bible directly links fear to heart diseases. These insights into cardiovascular disease may be just what your heart needs to be returned to health and peace and to function the way God designed it to.
Men's hearts failing them for fear, and for looking after those things which are coming on the earth… Luke 21:26 KJV
Fear and Stress are one of the leading risk factors of cardiovascular disease
Our bodies directly respond to our thoughts. We can use angina as an example: when a person is struggling with fearful and anxious thoughts, it can cause the heart muscle to constrict. This restricts the blood flow from traveling freely through the blood vessels causing the chest pain of angina.
Many people ask us, what is so wrong with fear? Weren't we created with fear for self-protection? Yes… and no. God designed us with a fight or flight mechanism so that when we recognize a danger, our body can redirect our energy into the necessary muscles to assist us in either fighting or fleeing from the danger.
The enemy has fabricated a counterfeit through a spirit of fear which projects the trauma of our past, potential danger, challenges, or failures into our future. When we become fixated on these fearful thoughts, our body remains in this state of stress long term. As a result, what was designed for our self-preservation becomes unhealthy to us and breakdown begins to occur in our body. Spiritually and scripturally speaking, fear is one of the primary risk factors of cardiovascular disease.
The enemy's strategy to cause cardiovascular disease
A trick that the enemy uses to keep us in bondage is to feed us thoughts of worry or dread that rob us of our joy today and try to project evil into our future. He wants to tempt us to try to maintain control of everything in our lives and not submit all our ways to God.
Commit thy way unto the LORD; trust also in him; and he shall bring [it] to pass. Psalm 37:5 KJV
He also wants to prevent us from casting our cares on God; he lies to us and makes us believe that we need to figure everything out ourselves.
Casting all your care upon him; for he careth for you. 1 Peter 5:7 KJV

Trust in the LORD with all thine heart; and lean not unto thine own understanding. 6 In all thy ways acknowledge him, and he shall direct thy paths. Proverbs 3:5-6 KJV
The enemy's ultimate goal is to separate us from God by keeping us from being able to completely trust God with our lives and submitting ourselves to Him. Why? Because he knows that when we remain in that place of trusting God, we will have victory over him and over cardiovascular disease.
The LORD [is] my rock, and my fortress, and my deliverer; my God, my strength, in whom I will trust; my buckler, and the horn of my salvation, [and] my high tower. Psalm 18:2 KJV
And the LORD shall help them, and deliver them: he shall deliver them from the wicked, and save them, because they trust in him. Psalm 37:40 KJV
The influence of genetics and iniquity on cardiovascular disease
It has been noted by the medical community that many of these cardiovascular diseases follow family trees. They often see the same heart condition affecting a person that affected their parents and even grandparents before them. There is evidence in some of these situations of genetic markers leading to a predisposition to cardiovascular diseases. But may we submit that a genetic predisposition is actually a spiritual predisposition as well?
From our observation, a spirit of fear, anxiety, and stress can track with the generations just as any other type of iniquity can. It becomes a learned behavior that is so familiar, many of us don't know or recognize the difference.
A spirit of fear will take whatever open door it can into the next generation in order to program and train each person in its ways. It can even come in from the womb if the mother is struggling with fear and stress during her pregnancy.
The LORD [is] longsuffering, and of great mercy, forgiving iniquity and transgression, and by no means clearing [the guilty], visiting the iniquity of the fathers upon the children unto the third and fourth [generation]. Numbers 14:18 KJV
Keeping mercy for thousands, forgiving iniquity and transgression and sin, and that will by no means clear [the guilty]; visiting the iniquity of the fathers upon the children, and upon the children's children, unto the third and to the fourth [generation]. Exodus 34:7 KJV
What does God say about cardiovascular disease?
We have to be careful that we don't get so preoccupied with what science says about our heart condition that we forget to take time to find out what God thinks. He created everything and He knows everything, including our bodies, and the innermost thoughts and intents of your heart. If that's the case, don't you think that He might have some answers for your life?
For the word of God [is] quick, and powerful, and sharper than any twoedged sword, piercing even to the dividing asunder of soul and spirit, and of the joints and marrow, and [is] a discerner of the thoughts and intents of the heart. Hebrews 4:12 KJV
If God's not afraid of anything, then why are we afraid? He's our Father!
We're afraid because we have been trained in the law of sin and the law of sin is unrighteousness. Jesus said this in Matthew 6:34:
Take therefore no thought for the morrow: for the morrow shall take thought for the things of itself. Sufficient unto the day [is] the evil thereof. Matthew 6:34 KJV
This scripture addresses a primary spiritual root cause of high blood pressure which is rooted in fear of tomorrow. If you're taking thought for tomorrow, you are worrying. You are bound by fear, speculating what might go wrong in the future so that you don't defeat anything today. Fear will project the failures of your past into your future and rob you of the joy of your today. So your yesterdays become your tomorrows and your tomorrows become your yesterdays.
Physiologically that worry and stress will trigger a chemical response that can cause your blood vessels to constrict causing decreased blood flow and increased blood pressure.
But the Bible says: "This is the day that the Lord has made, we will rejoice and be glad in it!"(Psalm 118:24)
Apply your hearts today to righteousness, tomorrow will take care of itself. If you're going to take the victory here, seek ye first the kingdom of God and His righteousness, and all of these things will be added unto you. (Matthew 6:33) That righteousness is His faith, not fear.
Fear vs. Faith
Fear and faith are equal in this dimension. They both project a future outcome and they both demand to be fulfilled. The Bible says, according to your faith, so be it unto you. But it could also be said, according to your fear, so be it unto you. So it comes down to a choice of who you are going to believe today. Or rather, who are you choosing to serve? God in faith, or the enemy in fear?
Ouch, hallelujah!
Defeating fear can help defeat cardiovascular disease
The Bible tells us to take every thought captive and to cast down every imagination.
Casting down imaginations, and every high thing that exalteth itself against the knowledge of God, and bringing into captivity every thought to the obedience of Christ. 2 Corinthians 10:5 KJV
We need to make a habit of asking ourselves, "What am I listening to right now?" Sometimes our minds are whirring and we are seemingly oblivious to what we are thinking, but our hypothalamus is responding to it and causing chemical responses of stress in our body. As you learn to identify the feelings that come with anxiety and stress you can ask Father God to show you the thoughts that you were listening to that caused the feelings.
We may not even recognize that we are worrying because we are in fear-faith, we are hoping to God for a good outcome but have not actually put our complete trust or confidence in Him. We may have a plan B that says, "If God doesn't make this happen, then I will do this."
We can ask God to show us the areas in our lives that we are not completely able to trust Him with or submit to Him. And when He does, we can repent for agreeing with the enemy in that area, and take authority over the enemy and those thoughts and command them to go in Jesus' name.
But without faith [it is] impossible to please [him]: for he that cometh to God must believe that he is, and [that] he is a rewarder of them that diligently seek him. Hebrews 11:6 KJV
Lining your heart up with Father God's heart
Of course, recognizing the root issue and taking authority over the enemy is only the first part of healing and recovery. We need to move on into sanctification and renewal of our minds.
What does that mean? It means that our highest goal is to be more like our Heavenly Father and to walk in His ways which are righteousness, peace, and truth but most of all love. We need to find our identity as His sons and daughters.
Where does love come from?
The Bible says that God is love, so if you've ever had a desire to be loved, you are actually craving God in your life!
And we have known and believed the love that God hath to us. God is love; and he that dwelleth in love dwelleth in God, and God in him. 1 John 4:16 KJV
Therefore, in order to be restored to love, we need to walk in a relationship with God who is love. And guess what?! The Bible says that the Holy Spirit will help change us into His image. That means that we get to be love too!
But we all, with open face beholding as in a glass the glory of the Lord, are changed into the same image from glory to glory, [even] as by the Spirit of the Lord. 2 Corinthians 3:18 KJV
What does love have to do with heart disease?
There is another scripture that ties fear to separation from love.
There is no fear in love; but perfect love casteth out fear: because fear hath torment. He that feareth is not made perfect in love. 1 John 4:18 KJV
So right here, we have the evidence to conclude that if we are struggling with fear, anxiety, or stress, love has been breached at one or more level in our lives.
Ask God to help restore your heart
Ask Father God to show you the areas in your life where there may be a breach in love. Then ask Him to help you discern the lies from the enemy that may have entered at that door point.  It's those patterns of thought that give the enemy the open door and the permission to operate in your life and cause issues like heart disease.
We challenge you to seek God's heart, seek to know Him more, not just to know more about Him. He is love, and in His nature and in His righteousness, you will receive the fullness of life, peace, freedom, and healing that He has prepared for you.
God is greater than heart disease! We hope that these insights into fear, love, and cardiovascular disease will set you on a journey of thought that Father God can meet you in to bring healing and freedom for your life.
Blessings,
The Be in Health® Team
 There are other possible spiritual roots that are risk factors of heart disease.
Dr. Henry W. Wright did an entire conference on the topic of how to overcome cardiovascular disease entitled, God is Greater than Cardiovascular Disease. This teaching includes cutting-edge research into the physiological, biological, and spiritual causes of heart disease and presents real solutions from the Bible to overcome cardiovascular disease in your life. This teaching includes insights into the root cause of a heart attack or stroke, high blood pressure, high cholesterol, coronary artery disease, congenital heart disease, and more!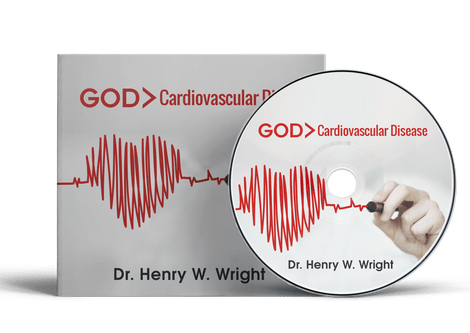 Spread the Word and share this article with others!