(An 8 Minute Read)
Life can offer so many distractions; so many things that we can pour our thoughts and energy into. One thought process that can lead to substantial stress is a fear that we won't have enough of something like food, money, or even love and relationships. We call that fear of poverty; it's a lie from the enemy that keeps us from trusting God for His provision in every area of our lives. God wants to teach us how to overcome fear of poverty so that we can walk in peace and reliance on Him no matter what our circumstances look like.
Striving to cover ourselves
Some people pour all of their time, thought and effort into earning an income so that they can develop a form of security in their financial decisions. Still others pay for every type of insurance available to cover all of the "what ifs" in life. Some people create a stockpile of whatever they think is important to them and still others can't let anything go, thinking, "What if I need this someday?" This can often be an indication that a person has a fear of poverty. 
There is no denying that we all have basic needs for food and water, shelter and clothing. These are not bad things. The question is: where are we putting our affections? Do we obsess about these things? Do we let the thought of them control our lives and rule our motivations and thoughts? Have you developed a fear of poverty?
God calls us to a different attitude
The Word says that the world thinks about all these things, and they have good reason to. They have not submitted themselves to their loving Heavenly Father. But, those of us who have chosen to love Him and to follow Him and to be a part of the family of God now have a higher calling. We are asked to put off the old things and put on the new. Our old concerns and fears that we had when we were fatherless are now irrelevant because our Father has promised to take care of us.
That ye put off concerning the former conversation the old man, which is corrupt according to the deceitful lusts; And be renewed in the spirit of your mind; And that ye put on the new man, which after God is created in righteousness and true holiness. Ephesians 4:22-24 KJV
Are we trying to serve two masters?
Jesus taught very specifically about this topic in Matthew 6 as part of His fundamental teachings about the Kingdom of God and how to relate to Father God.
Matthew 6:24 says this:
No man can serve two masters: for either he will hate the one, and love the other; or else he will hold to the one, and despise the other. Ye cannot serve God and mammon. Matthew 6:24 KJV
Here, Jesus is drawing a shift of perspective to His disciples. He's telling us that we cannot serve God and money. He is not making money evil; money is just a physical object that represents other physical objects and services that we can purchase with it. Working for our money is a good thing when done in the right spirit, still being thankful to God and trusting Him for His complete provision. However, He wants us to know that we can't let the need for money consume our thinking or motivate our every move and action any longer. He is requiring a shift in perspective from reliance on money as a form of security, strength, and provision to a reliance on God as our provider, protector, and strength. He's touching on an issue of the heart.
Before this He says:
Lay not up for yourselves treasures upon earth, where moth and rust doth corrupt, and where thieves break through and steal: But lay up for yourselves treasures in heaven, where neither moth nor rust doth corrupt, and where thieves do not break through nor steal: For where your treasure is, there will your heart be also. Matthew 6:19-21 KJV
Where is your treasure? Is it on people, places or things, money, old memories? Those things may all be important but they are all also temporal. God's asking us to develop an eternal perspective here. What is actually important in the long run? The only thing that we will take with us into eternity is our spirit so perhaps it's time that we give more attention to our spirit and the spiritual reality around us than we do to the physical things in front of us.
Jesus puts this all into perspective in verse 25-30:
Therefore I say unto you, Take no thought for your life, what ye shall eat, or what ye shall drink; nor yet for your body, what ye shall put on. Is not the life more than meat, and the body than raiment? Behold the fowls of the air: for they sow not, neither do they reap, nor gather into barns; yet your heavenly Father feedeth them. Are ye not much better than they? Which of you by taking thought can add one cubit unto his stature? And why take ye thought for raiment? Consider the lilies of the field, how they grow; they toil not, neither do they spin: And yet I say unto you, That even Solomon in all his glory was not arrayed like one of these. Wherefore, if God so clothe the grass of the field, which to day is, and to morrow is cast into the oven, shall he not much more clothe you, O ye of little faith? Matthew 6:25-30 KJV
Understand your value
It is so important that we understand our value to God. We aren't just a grasshopper roaming the earth looking for food and hoping not to get squashed. We are of more value to God than any other part of creation. In fact the Word says that we were created for His pleasure. He finds pleasure in us!
When I consider thy heavens, the work of thy fingers, the moon and the stars, which thou hast ordained; What is man, that thou art mindful of him? and the son of man, that thou visitest him? For thou hast made him a little lower than the angels, and hast crowned him with glory and honour. Thou madest him to have dominion over the works of thy hands; thou hast put all things under his feet. Psalms 8:3-6 KJV

The LORD taketh pleasure in them that fear him, in those that hope in his mercy. Psalms 147:11 KJV
We are the sons and daughters of God destined to receive His great inheritance.
Blessed be the God and Father of our Lord Jesus Christ, which according to his abundant mercy hath begotten us again unto a lively hope by the resurrection of Jesus Christ from the dead, To an inheritance incorruptible, and undefiled, and that fadeth not away, reserved in heaven for you, Who are kept by the power of God through faith unto salvation ready to be revealed in the last time. 1 Peter 1:3-5 KJV
Let's think on this for a moment. Do you think that a person who is promised a great inheritance would fear poverty and worry about provision for their future? If that inheritance is only temporal and can be spent and wasted, how much more can we rejoice in the eternal inheritance that our loving Heavenly Father has prepared for us that does not fade away, cannot be spoiled, stolen, or lost, and offers hope for the entirety of eternity?
Jesus moves on to say this in verses 31 to 32:
Therefore take no thought, saying, What shall we eat? or, What shall we drink? or, Wherewithal shall we be clothed? (For after all these things do the Gentiles seek:) for your heavenly Father knoweth that ye have need of all these things. Matthew 6:31-32 KJV
This comes down to priority now. The enemy would love nothing better than to distract us from the eternal things of God. He'll bring fear of poverty and fear of tomorrow to keep us in a form of tunnel vision so that we cannot rise up to the high calling of Jesus Christ.
In the parable of the sower and the seeds, Jesus warns about this trap:
Now the parable is this: The seed is the word of God…And that which fell among thorns are they, which, when they have heard, go forth, and are choked with cares and riches and pleasures of this life, and bring no fruit to perfection. Luke 8:11, 14
We need to be aware of the devices of the enemy. We cannot allow Him to choke out our birthright or our inheritance by getting ourselves consumed by the cares of this world.
What are we dealing with?
Fear will not allow us to trust or obey God; it may even bring accusation against God and lead us to believe that His will not provide for us or will forget us or fail us. Yet God is not a man that He can fail or change.
Every good gift and every perfect gift is from above, and cometh down from the Father of lights, with whom is no variableness, neither shadow of turning. James 1:17 KJV

God is not a man, that he should lie; neither the son of man, that he should repent: hath he said, and shall he not do it? or hath he spoken, and shall he not make it good? Numbers 23:19 KJV
Trying to take things into our own hands
Fear will lead us to try to control or strive for the things we think we need. It does not allow us to submit to God but rather drives us and requires us to take the weight of the world onto our shoulders. It wants to wear us out. It wants us to make ourselves, others, or things our source so that we cannot look to God or allow Him to meet us and work with us. But Jesus said this:
Come unto me, all ye that labour and are heavy laden, and I will give you rest. Take my yoke upon you, and learn of me; for I am meek and lowly in heart: and ye shall find rest unto your souls. For my yoke is easy, and my burden is light. Matthew 11:28-30 KJV
Two tactics of Fear of Poverty
There are two ways that fear of poverty may lead us: one can be toward fear, guilt, shame, and unworthiness. They will make a person believe that they are unworthy of receiving good things. They will convince a person that God doesn't care, and who are they to even ask for any good thing? They would feel guilty if someone gave them a gift for no reason. They may try to decline it or reject it because they feel unworthy. In this case, it may be that Father God is trying to provide for their needs and bring blessings, but guilt and unworthiness will cause a person to reject them. This comes out of an unloving spirit.
The other way that fear of poverty may lead a person is into greed. This comes out of a need to be self-sufficient and to provide for themselves because they do not trust that God will provide or that He cares. Envy and jealousy may come in to guard and keep their resources in a miserly or "scrooge" like mentality. It makes them strive to create their own blessings. This causes division and separation from God and others. The enemy has them right where He wants them; it's a trap.
Identifying our struggles
It is necessary to recognize any area in our lives where we are not trusting in God and are in unbelief and doubt or even listening to and believing accusations against God. We can recognize where fear of being poor, guilt, unloving or envy and jealousy has tried to rob us of the gifts and blessings that Father God would want to give us.
When we recognize these things operating in our life or in our generations, we can repent to God and command those tormentors and robbers to leave us alone. We do not have to serve fear of being poor! We do not have to get all tangled up in the worries of our personal finance because our Father has something so much more valuable to offer us. He wants to bring rest and peace to our lives as we walk in trusting Him. He wants to be our provider, source, and protector. He wants to be our strength when we are weak and bring us back to joy, peace, and hope. He wants us to abide and thrive in His love.
There remaineth therefore a rest to the people of God. For he that is entered into his rest, he also hath ceased from his own works, as God did from his. Let us labour therefore to enter into that rest, lest any man fall after the same example of unbelief. Hebrews 4:9-11 KJV

As the Father hath loved me, so have I loved you: continue ye in my love. If ye keep my commandments, ye shall abide in my love; even as I have kept my Father's commandments, and abide in his love. John 15:9-10 KJV
Establish God's truth
Then we need to establish God's truth in our lives and establish our hearts in agreement with Him. He wants us to be able to remain present in today, to cast every little care on Him and remove the weights that would hold us back.
Take therefore no thought for the morrow: for the morrow shall take thought for the things of itself. Sufficient unto the day is the evil thereof. Matthew 6:34 KJV

Wherefore seeing we also are compassed about with so great a cloud of witnesses, let us lay aside every weight, and the sin which doth so easily beset us, and let us run with patience the race that is set before us. Hebrews 12:1 KJV
You don't have to have it all figured out!
We do not have to have it all figured out in advance. Faith is trusting God with each step and just continuing to put one foot in front of the other. We get overwhelmed when we get too far ahead of ourselves and allow the enemy to bring in all the "what ifs." Our top priority should be to seek the Kingdom of God and His righteousness because, in that, God promises that He'll provide for everything else.
But seek ye first the kingdom of God, and his righteousness; and all these things shall be added unto you. Matthew 6:33 KJV
Trust in your Heavenly Father
Remember the goodness and greatness of our Heavenly Father. He truly does hold the whole world in His hands. He truly is greater and stronger than all of our problems and needs. He knows the end from the beginning, and nothing can ever get out of His control. The Word says that He owns the cattle on a thousand hills. His resources are limitless, we don't always need to know where they will come from, but we can trust that He does and that He will bring it about in His perfect way in His perfect timing. We have a good Father who has plans for peace and hope and a future for us.
Will you choose to participate with Him?
Blessings,
The Be in Health® Team
You may also find these related articles interesting: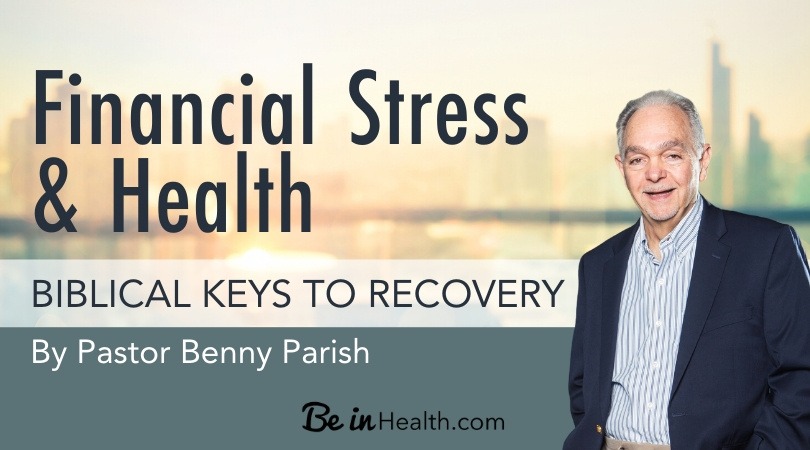 Financial Stress and Health – Biblical Keys to Recovery – By Pastor Benny Parish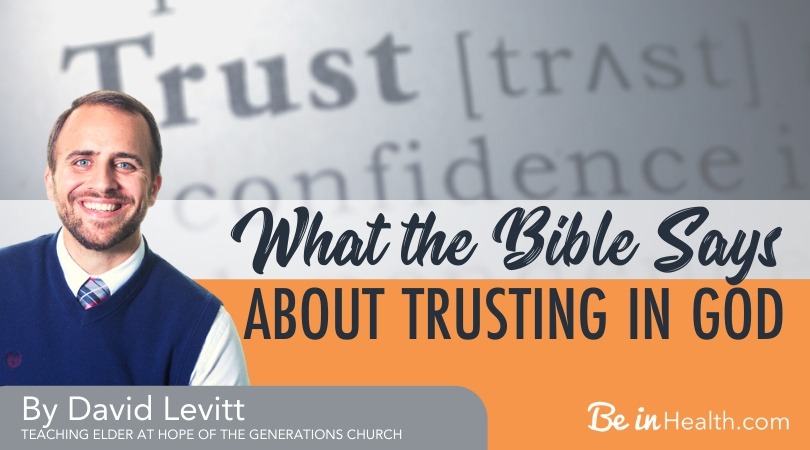 What Does the Bible Say About Trusting God? – By David Levitt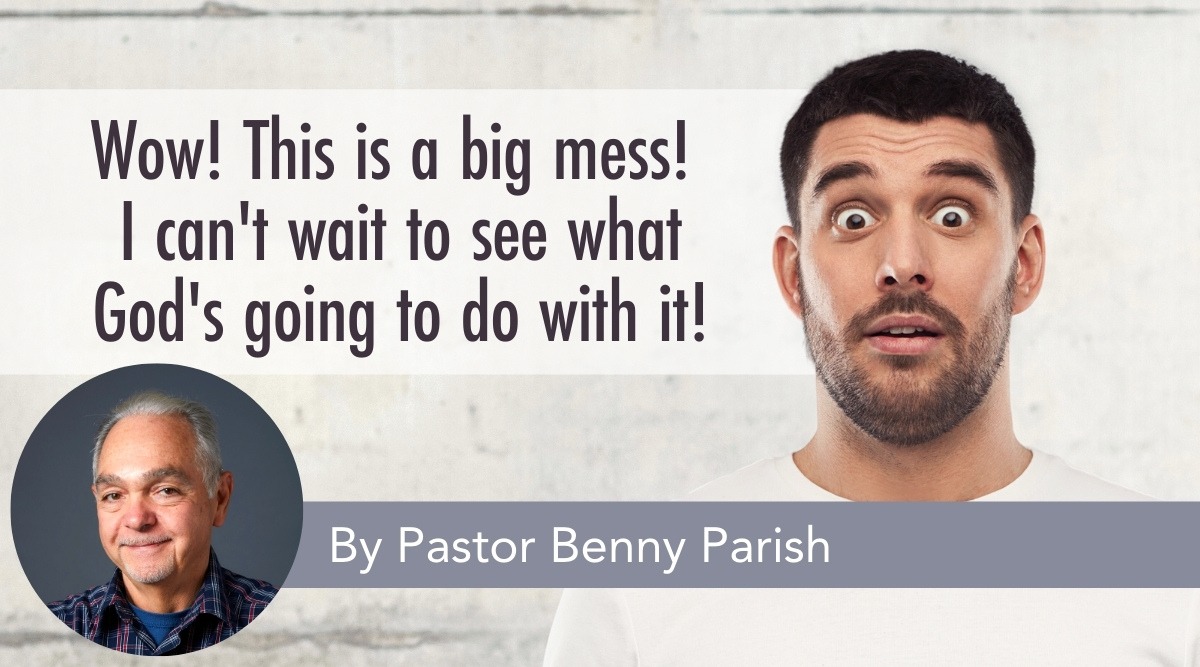 How to Overcome Stress, Anxiety, and Fear in Your Life – By Pastor Benny Parish
Pin this article now to save it for later and share it with others!