ADVANCED INSIGHTS
INTO HEALING AND DISEASE PREVENTION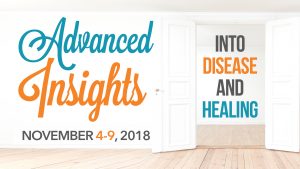 God has a lot to say about disease and healing in the Bible.  Sadly, many leaders and teachers in the church either do not understand or do not pay attention to all these scriptures.
Because of this, disease has become the normal for mankind, even the church.  We have become trained to believe that disease just happens out of nowhere and we just hope that we are one of the few that are somehow able to avoid it.
Healing in many sectors of the church is just something that happened in the days of the first century church.  Today, healing is sought out mostly in medical modalities, nutrition and exercise.
For those that do believe in healing, in many cases their faith is not according to knowledge and they fall into the "name it and claim it" camp.
For over thirty years Dr. Henry W. Wright and Be in Health® have sought to understand the "Why?" behind disease, the Biblical solution and knowledge that produces the faith for healing.
The results have been nothing short of amazing.  Not because of any human, but because of the application of what God says about disease and healing in the Bible.
November 4th-9th, 2018 Dr. Henry W. Wright and the elders of Hope of the Generations Church and Be in Health® will be hosting a one-week, Advanced Insights course on: Disease and Healing.
This course will dive into the depths of the:
Theology of disease from Biblical study and scientific observation
Theology of healing from both the Old and New Testament. We will also discuss true Biblical healing vs. the counterfeit healing the world is seeking after.
Theology of disease prevention. Yes there is more than just diet and exercise in disease prevention.
Trust us when we say there is not another course like this in the world today.
This course will not only challenge conventional thinking and beliefs in the world and church, but build your faith to be healed and to help others be led on a journey of healing.
We only offer it once a year, so don't miss your opportunity to attend Advanced Insights into Disease and Healing!