City of Refuge A Gift to the Body of Christ
November 26 – December 1
December 3 – 8, 2017 We are offering City of Refuge twice this year, registration is available on a first come first served basis for each program and seating is limited to 150 per class. If you are planning to attend the DEC WOW following attending City of Refuge, we recommend registering for the DEC 3 class.
"For twelve years I went through all this yuck…" –Katie Treesh
Many who attend the City of Refuge® program have come as a last resort. They have tried many other scientific or alternative sources providing minimal temporary relief. That is where Katie Treesh found herself before she came to City of Refuge®.
Katie: "For twelve years I went through all this yuck. I went to the medical doctors; I don't even know how many doctors. When the medical doctors did not have any answers I went to the alternative medicine doctors and they could not give me anything except supplements. Yes, the supplements kind of fixed it. But then I would always be dependent on the supplements. It was so expensive; it took so much of our money. We were spending thousands of dollars and the devil was just stealing from us."
In 2016, Katie and her husband Aaron heard about Be in Health® through a lady in their church. They saw there was going to be a free Be in Health® conference near them in Knoxville, TN in October 2016.
They knew they had to go.
It was there that they found out about the City of Refuge®. A full For My Life® program offered for only $25 per person. Katie knew this was her opportunity, and she immediately made plans to attend the next month.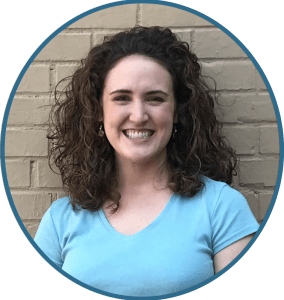 Katie: "The number one thing I left with was that I knew that my Father loved me, I just knew, it was not a doubt in mind anymore. The first thing that happened when I went home was my relationships with people started to be restored. At City of Refuge® I had learned that the issues I had were because of a breach with God, myself or others. I started to have time with the Lord, getting out of self-pity and that is when my heart really started to be healed. I then made it intentional to go to those people where there was a breach and make things right."
Katie and Aaron have a 4-year-old son named Caleb, but one really big issue is that they desired to have more children; however, Katie's cycle had not been regular since she had been 16 and the only way she had a cycle at all for the past twelve years was through medical intervention.
At the City of Refuge® Katie found out that one of the possible spiritual roots behind not having a regular cycle is a breech in relationship between her and another woman. She knew it was true. Her relationship with her mom had been struggling for years. That relationship was the first one she restored.
Katie: "It really started while I was there at City of Refuge® when I forgave my mom. Then two weeks later, in December, my cycle started. I had my cycle twice in December and I thought; what is going on!? But my doctor said that I hadn't had one in so long that it was probably just my body cleansing. I really felt as though God was washing me of all uncleanness and shame. I had restored hope again. I had hope again that I could be normal; that I could have children."
Having a regular cycle became the new normal for Katie. For six months in a row she had her cycle, but in June of 2017 it just stopped. She had hopes that it meant she was pregnant, but the test she took came back negative.
Katie: "All this hope deferred and self-pity started coming over me like a flood. The accusation toward God wanted to come out. The devil was taking advantage of this opportunity to attack me. When I went to Aaron he used his military background to help me. He said that when you are under attack you contact headquarters and alert them. At the same time you attack back and also call in help, you have to do all three. That has helped me so much because all I had been doing was calling headquarters, I wasn't attacking back and I wasn't calling in help. So being vulnerable with other people during hard times has been a propeller. It has propelled me ahead in the journey. As I reached out to one friend she told me that it might take up to 40-days for my body to respond positively to a pregnancy test. After that I prayed and in two hours I was back to peace instead of waffling in that for a week."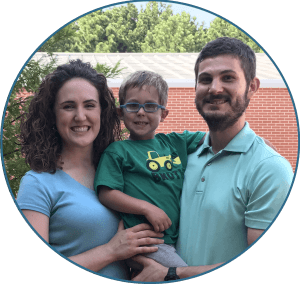 On July 1st, 2017 Katie took another pregnancy test and this time it was positive! Aaron got his prayer journal out and read a prayer request that he had written down months before, "pregnant by July 1st." At the time these pictures were taken Katie is eight weeks pregnant! In addition, they no longer need all the supplements and meds, so they are able to buy a home for their growing family! Praise God!!! What if you could impact one person, one family, just like Katie and her family for just a little over a dollar a day? There are thousands more that need the opportunity to hear the life changing truths that they receive from the City of Refuge® to change the course of their lives forever.
Together we can do this,
Dr. Henry and Pastor Donna Wright
P.S. Wasn't Katie's testimony amazing! Her story of God's faithfulness in her life would not have been possible without the continued support of our partners. Since 2008, over 2,500 people have been able to attend City of Refuge®, and in 2017, you can help three hundred more change the course of their lives forever by attending the City of Refuge®. By becoming a sustaining monthly partner right now, you will make it possible!
Click here to make your gift.